13 Best Treehouse Rentals to Make Your Childhood Dreams Come True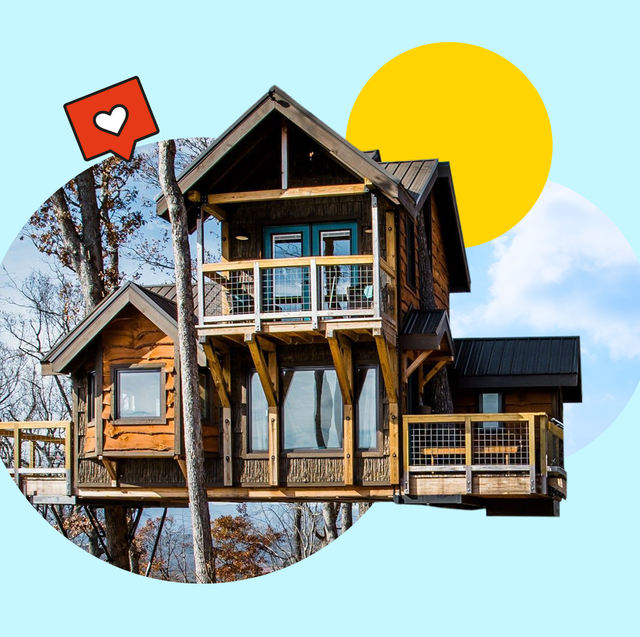 Courtesy
I'm only in my second week of social distancing, but I'm already daydreaming of my next girls' trip. And after being stuck inside for weeks/months/forever, I'm plotting to get the entire crew together (once it's safe, of course) for some camping in one of those cool treehouse rentals. So. Much. Nature. Everywhere.
Trust, I've thought this through: Booking a cabin-like trip is waaay cheaper than staying in some fancy hotel. Plus, you'll save money on flights (if you even need to take one) because there are tons of options right here in our own backyard.
Oh, your bougie friends wouldn't be down, you say? Well, believe it or not, tiny tree houses are actually just as chic as resort lodging, with luxury bedrooms, fancy bedding, and bathrooms with jacuzzi tubs.
Don't take my word for it. See exactly what I'm talking about in the roundup below.
Advertisement – Continue Reading Below
1
A couple's retreat
Sanctuary Treehouse of Serenity
Maybe you and bae need a little weekend hideaway. This one-bedroom, one-bath option in Asheville, North Carolina is a cozy place to cuddle up.
2
A tiny home dream
West A'ville Sanctuary
Ever wondered what it's like to live in one of those tiny homes? Here ya go. This one's also nestled in the trees of Asheville, North Carolina and has swings outside.
3
A tropical vibe
Dreamy Tree House
For the ultimate island escape, book this Hawaiian bamboo treehouse tucked in the jungle.
4
A cone-shaped house
'Silo Studio' Cottage
This two-story cottage isn't in an actual tree, but it's just as unique and surrounded by four acres of gardens in the Berkshires of Western Massachusetts.
5
A retreat-like option
Vermont Tree Cabin
Here's the perfect place to hide away and hang out three of your closest people. Inside, you'll find a place to BBQ (because food is life) and a cool hot tub too.
6
A room with a view
Pleasant Bay Lookout
Don't mind sharing a house with a fam? You'll appreciate this guy. The entire back wall of this one-room treehouse is glass, so you can enjoy views of the gorge bay.
7
A luxury find
Canopy Blue Luxury Treehouse
With a fire pit and swing bed (Google it), you won't worry about being bored in this Blue Ridge, Georgia treehouse. It's big enough for up to six guests, so invite your entire crew.
8
A stair-less option
Inn The Ravine Luxury Treehouse
Treehouses: YAY!  Carrying your luggage up the stairs: Not so yay.  This one in the woods of Georgia is accessible via a long ramp. Wahoo!
9
A fancy design
Sulfur Ridge-Tennessee's First Luxury Treehouse ™
A gated entryway and bedroom chandeliers make this a luxe-ass house on stilts.
10
A winter getaway
Rocky Mountain Treehouse
Head to the Rocky Mountains to watch the snow fall while staying in this hidden. Or check it out in the summer so you can take advantage of the picnic tables in the garden. So presh.
11
A playhouse design
Treehouse at Danville
For the adults who aren't ready to grow up, this one has a satellite TV (with Netflix and Amazon shows ready to go), an elevator, and a gas fireplace. You'll want to climb all over the place.
12
A an option by the water
Willow Treehouse
Venture to upstate New York for this cozy lil treehouse. It has a firewood-heated hot tub and a panoramic view so you can stare at the beautiful pond out back.
Advertisement – Continue Reading Below
Southern Style Macaroni Salad


Southern Style Macaroni Salad – This Southern Style Macaroni Salad is a refreshing side for any spring or summer lunch or dinner option. It's so creamy but yet it has the perfect lightness and flavor that will absolutely amaze you!
Macaroni Salad Ingredients
2 lbs.Elbow Macaroni (pasta shells of your choice will work)
1.5 – 2 cups Mayonnaise
1.5 – 2 cups Miracle Whip
Paprika for garnish (optional)
Green Onion Tops, Chives, Parsley, or Cilantro for garnish (optional)
2 tsp each Kosher Salt and Fresh ground Pepper
1 (10 oz.) can Light Tuna in water, drained
3 large Eggs, Hard-Boiled
3 Celery Stalks, chopped small
1 large Red or Yellow Onion, diced
YouTube.com/KolorfulKalmele
Pasta – Boil your pasta in a large pot of salted water. to a boil. Cook pasta (al dente) according to directions on the package. Pour the pasta into strainer to drain water and set aside to cool until ready for use.
Subscribe to my channel and press the bell button to get notifications every time I post a new recipes.
SUBSCRIBE FOR MORE ►►
Click this link to become a member of Smokin and Grillin wit AB
PERKS for YOUTUBE MEMBERS
💲5 Gets you Bi-Weekly written recipes, Acces to private live streams, Acces to the Exclusive Smokin and Grillin wit AB (TBD), Your name at the end of the video (credits).
Become a YouTube member and Thank you in advance!
If your like this video and would like to see more don't forget to like, share, and subscribe and hit the bell for a notification of the latest video.
My Amazon Store
**** Video Gear and Links ****
My Gear
Camera 1: Panasonic GH5 –
Camera 2: Nikon D7000 –
Camera 3: Samsung Note 8 –
Favorite Prime Lens: PANASONIC LUMIX G X VARIO II PROFESSIONAL LENS 12-35MM –
Favorite Zoom Lens:
Favorite Cell Mic:
Production Tech
Desk Mic:
Lighting Kit:
Neewer 4x 160 LED Lighting Kit:
Manfroto Mini Tripod w/universal Cell mount:
Echo Dot (2nd Generation): Black –
Social Media
Twitter:
Instagram:
Google+:
Facebook:
Pintrest:
Snapchat:
For business inquiries:
Smokin' and Grillin' with AB
5198 Arlington Ave
Box 363
Riverside, CA 92504-2603
Websites
www.SmokinandGrillinwitAB.com
Email: SmokinandGrillinwitAB@gmail.com
#SmokinandGrillinwitAB #CookinwitAB #SmokinGrillinFam
DISCLAIMER: This video and description contains affiliate links, which means that if you click on one of the product links, I'll receive a small commission. This helps support the channel and allows us to continue to make videos like this. Thank you for the support!

source
Khloé Kardashian & Tristan Thompson Plan 'Extra Festive' Social Distance Party For True's Second Birthday!
We all look forward to the over the top baby birthday parties thrown by the KarJenner clan — but unfortunately for us and sweet True Thompson, coronavirus has gotten in the way of the latest bash.
Related: Blac Chyna Trolls Khloé For Saying She'd 'Dominate' Kourt In A Fight
A source confirmed to PEOPLE that True's second birthday will be immediate family only, meaning just mommy and daddy. (As we know, Khloé Kardashian and ex Tristan Thompson have been quarantining together.) The extended family will join in the festivities virtually via video chat. 
However, the source noted:
"Khloé plans on making it special still."
In fact, the occasion will be "extra festive" because it coincides with Easter Sunday. The source said KoKo's house is already "beautifully decorated" for the holiday. 
Still, we have to admit that a quarantine party is a bit of a downgrade from last year's festivities, which saw the whole family come together to celebrate True with "unicorn" pony rides, ice pops, and cotton candy. In early March, the Revenge Body star hinted at her plans for the second birthday bash on Twitter, writing:
"It was going to be Sesame Street but now she's obsessed with trolls ever since Stormi 's birthday. So I might have to do a little Hybrid party lol"
It was going to be Sesame Street but now she's obsessed with trolls ever since Stormi 's birthday. So I might have to do a little Hybrid party lol

— Khloé (@khloekardashian) March 6, 2020
Despite the disappointing turn of events, America's First Family of Reality TV are committed to doing their part to flatten the curve. Khlo's sis Kim Kardashian West recently spoke to The View about how the Kardashians are keeping up with each other during quarantine:
"We do zoom dinners, where we all get on, you know, we'll all make our plate and then have dinner and talk. We're on a group family chat all the time. FaceTiming my grandma, my sisters. It has been really challenging. … You know, our kids haven't seen each other, the cousins haven't played together … that's been really different for them, too. We're so close, we're so used to hanging out. … We really are respecting the rules and …[doing] what we gotta do to help fight this virus."
For her part, the Good American founder has also maintained social distance from her sisters. On Tuesday, she saw Kourtney in person to work out, but from a healthy distance. She explained in a tweet:
"Me and @kourtneykardash got a great workout in. Social distancing of course But it felt good to workout again. Outside and far apart. Still wearing our protective gear. It was different but felt good. ❤️❤️ stay safe loves"
Me and @kourtneykardash got a great workout in. Social distancing of course But it felt good to workout again. Outside and far apart. Still wearing our protective gear. It was different but felt good. ♥️♥️ stay safe loves

— Khloé (@khloekardashian) April 7, 2020
However they celebrate the occasion, we know that dedicated co parents Khloé and Tristan will make the moment special for their daughter. While fans may be a little more interested in what's going on between the exes while they're in lockdown together, the reality star has steadfastly denied reconciliation rumors. She even suggested she may never date again.
Related: Tristan Thompson 'Fighting' For Relationship With Khloé

Instead, the 35-year-old is happy to keep the focus on baby True. She wrote on Twitter:
"I can't believe my baby will be TWO this Sunday 😫 time flies so quickly!!! I'm so grateful for every second ❤️🙏"

I can't believe my baby will be TWO this Sunday 😩 time flies so quickly!!! I'm so grateful for every second ♥️🙏🏽

— Khloé (@khloekardashian) April 6, 2020
AWW!
We hope True has a very happy quarantined birthday — no matter what that looks like!
[Image via Instagram/Khloé Kardashian & Tristan Thompson]
All of the Sleek, Straight Hairstyle Inspiration You Need
Over the years, I have dedicated a lot of time and energy to finding a quick and easy way of achieving just-rolled-out-of-bed curls. You see, my hair is naturally poker straight. It's so straight, in fact, that trying to get it to hold any kind of curl is virtually impossible. Needless to say that this whole situation has meant that trying to keep my hair tousled has proved a little difficult, to say the least. However, I've noticed a return to straightened looks that remind me of the days when GHDs first launched.
From some of my favourite celebrities to the fashion girls that I love following, it seems as though people are starting to dig out their hair straighteners. The best part? They actually look chic. Unlike the shapeless styles of yesteryear, the new straight is voluminous and sleek but with some movement.
And it might seem like an odd thing to say, but I'm desperate to dive right in and dust off my trusty hair straighteners, because although my hair is naturally straight, nothing gives it that sleek sheen quite like a pair of straightening irons. A quick whizz over with my go-to GHD Platinum+ Styler (£175) and a spritz of Lee Stafford Shine Head Spray (£6) is all I need for the smoothest, sleekest hair going.
If you've yet to be fully convinced by the straight-hair trend and are not quite ready to switch your tongs for irons, keep scrolling for sleek, straight hairstyles that just might be enough to sway you.