Casey Urlacher Faces Charges in Connection to Illegal Offshore Sports Gambling Ring – NBC Chicago
Casey Urlacher, the brother of former
Chicago Bears linebacker Brian Urlacher, was one of ten individuals named in a
federal grand jury indictment Thursday, accused of helping to run an illegal
offshore gambling business.
Urlacher is accused of recruiting bettors
for the website UncleMickSports.com in exchange for a cut of their eventual
gambling losses.
Urlacher is currently serving as the mayor
of Mettawa, a village in Lake County.
He faces charges of conspiracy and running
an illegal gambling business in connection with the indictment.
The indictment, issued by the U.S. District
Court's Northern District of Illinois, names a total of 10 defendants,
including Vincent Delgiudice, who is accused of running the website. The
website was maintained in Costa Rica, according to the indictment, and was used
to manage the accounting, betting and logistics of the illegal ring.
In the indictment, Urlacher is accused of
asking one of the defendants to "create an online login and password for a new
gambler," and is accused of collecting money from gamblers who had lost on bets
on the website. In one instance, Urlacher is accused of giving Vasilios Prassas,
another defendant named in the indictment, an envelope containing cash payments
for gambling debts.
The Chicago Tribune also reports that one of the defendants in the case, Nicholas Stella, is a veteran Chicago police officer, and that he was stripped of his powers last year.
"The allegations against suspended police
officer Nicholas Stella are various serious and if proven, they undermine
everything the men and women of the Chicago Police Department represent,"
Charlie Beck said in a statement to the newspaper.
Arraignment dates have not been scheduled in the case. Each of the two counts Urlacher is facing carry a maximum sentence of five years.
After Casey Urlacher's football career came
to an end, he became involved in several political endeavors, including his
election as mayor of Mettawa in 2013. He was appointed to the Illinois Civil Service
Commission by former Illinois Governor Pat Quinn, and was appointed to another
term by former Governor Bruce Rauner in 2017.
cUrlacher also had an unsuccessful run for the Republican nomination in the 25th State Senate District in 2015.
Coronavirus presents new challenge for writers: too much noise at home
Amid heaped laundry and accompanied by the slosh and rattle of his washer-dryer set, writer Jonathan Eig hunches over his computer, losing himself in a world of church bombings, angry mobs and the hope for a better future.
Eig scrolls through old letters and newspapers of the day as he researches the Rev. Martin Luther King Jr.'s life in 1957 Alabama for a biography.
"If I could, I would just shut my door and stay here for weeks — months at a time — and just immerse myself in this material," Eig said, speaking from his Lake View home.
But then there's a knock at the door. It might be one of his two daughters, asking him to make a sandwich or help with a tie-dye craft project.
Isolation — the kind that many stuck-at-home Chicagoans are now experiencing for the first time — is a way of life, a necessity, for writers. But they, like everyone else, are having to adjust to a new, less-than-ideal reality.
There are the thumps, shrieks and other interruptions coming from a suddenly crowded house.
Kelly O'Connor McNees, who lives in Rogers Park, is revising what she hopes will be her next novel. Until the coronavirus outbreak took hold here, she'd been editing her manuscript during the daily 30-minute Red Line ride each day into the Loop to her day job as director of content for Page 2 Communications, a legal industry communications strategy firm.
"Now that we are all at home, the time I had for working on [the revision] is gone," said McNees, author of the 2018 release "Undiscovered Country," a novel based on the love affair between Eleanor Roosevelt and the Associated Press reporter Lorena "Hick" Hickok. "At home, the struggle for us to work our full-time jobs and keep second grade going for our daughter, plan, shop for and prepare three-plus meals per day, get some exercise, keep up with laundry, dishes, cleaning, etc., has us completely maxed out from the moment we wake up until we zonk out at night."
Lisle author Rebecca Siegel, whose children are ages 4 and 6, described her house as "pure chaos." But the bigger problem isn't the noise. She typically rises to write long before sunrise, when her children are still asleep.
"I'm not being very productive because I feel like I'm just in this mode of consuming [coronavirus] information right now, rather than creating," said Siegel, a writer of middle-grade nonfiction. "I'm trying to just give myself grace with that because this is such a bizarre situation. I feel like if I'm trying to write, but I'm only thinking about what's going on in the world, my writing is not very good."
Vernon Hills children's author Allan Woodrow said his concentration has suffered too from real-world intrusions.
"I write seven days a week …, almost every single day since I started writing 10 years ago, but I've written very little over the last couple of weeks and that is very odd for me and very frustrating," said Woodrow, author of the 2019 novel "The Curse of the Werepenguin."
He's also been unable to visit schools, one of the ways he'd spread the word about his recent release and the next book in the series, "The Revenge of the Werepenguin."
It's frustrating, he says, but not foremost in his mind right now.
"My focus is on my family and the health of the country — not my own selfish promotional needs," Woodrow said.
Some parts of the author's job, particularly for writers of nonfiction, have become a bit easier now.
"Everybody is home now. So that people who might have been elusive for me … they're definitely going to answer their phones now," Eig said.
Authors also know there's extraordinary material to mine from the current crisis.
"I'm trying to keep the big picture in mind because the stories I like to write are stories about people facing enormous obstacles, things that seem insurmountable," said Siegel, author of two nonfiction middle-grade books, "To Fly Among the Stars: The Hidden Story of the Fight for Women Astronauts," and the soon-to-be-released, "Mayflower, The Ship that Started a Nation."
McNees suspects there will be novels written about this time, but probably not by her.
"I think some good books will come out of this time, but they will all be written by men who do not have small children," she said. "It's hard not to be deeply frustrated about that, but it is what it is."
Eig isn't sure whether the coronavirus will inspire him to write a book. But his daily immersion into the civil rights leader's struggles has put the current crisis in context.
"I didn't realize just how often bombs were exploding all over Montgomery and Birmingham. I knew that that happened, but … I didn't know how real the threat of death was for [King] every day," Eig said. "That kind of courage is really inspiring and incredibly relevant, especially when you think about all the doctors who are putting their lives on the line right now."
Coronavirus Updates: How would overwhelmed hospitals decide who to treat first?
NEW YORK — Health care workers are dreading the prospect of such dire scenarios as U.S. hospitals brace for a looming surge in patients who need breathing machines and other resources that could soon be in critically short supply.
That has meant dusting off playbooks they've never before had to implement on how to fairly ration limited resources during an emergency.
"I pray for their good judgment and their capacity as they make very difficult choices," said Erik Curren, whose 77-year-old father died this month from respiratory complications related to the virus after becoming infected at an assisted living home in Florida.
Harrowing scenarios already are unfolding in country after country hard-hit by the COVID-19 pandemic, including Spain, where one nursing home official said sick residents are dying after being unable to get into overflowing hospitals.
Like much of the rest of the world, ventilators that help people breathe are in particular demand across the U.S., given the respiratory problems common among people severely ill with COVID-19.
As many as 900,000 coronavirus patients in the U.S. could need the machines during the outbreak, according to the Society for Critical Care Medicine. Yet the group estimates the country has only 200,000, many of which already are being used by other patients.
In New York, the U.S. epicenter of the outbreak, one city hospital has already logged 13 coronavirus deaths in a single day and officials are setting up hundreds of hospital beds in a sprawling convention center as cases climbed past 30,000 in the city.
In preparation, health officials across the country are reviewing guidelines from sources including state governments and medical groups on how to ration limited resources in emergencies.
The general principle spanning those plans: Bring the most benefit to the greatest number of people and prioritize those with the best chance of recovery. But exactly how that's determined is fraught.
Automatically excluding certain groups from receiving ventilators, such as those with severe lung disease, invokes ethical issues, said Dr. Douglas White at the University of Pittsburgh. Many hospitals seeking guidance on COVID-19 in recent weeks have adopted a policy he devised without such exclusions, he said.
Guidelines previously developed by New York state's health department exclude some seriously ill people from receiving limited ventilators in major emergencies, but note that making old age an automatic disqualifier would be discriminatory. The plans go on to add, however, that given the "strong societal preference for saving children," age could be considered in a tie-breaker when a child's life is at stake.
Recommendations published this week by German medical associations in response to COVID-19 also say age alone shouldn't be a deciding factor. Among the situations where they said intensive care should not be provided if availability is in short supply: if the patient would need permanent intensive care to survive.
The crushing emotional burden of carrying out potentially life-and-death decisions is why the guidelines typically designate separate triage teams to make the call, rather than leaving it to the doctors and nurses providing bedside care.
"This is a really terrifying decision — you don't want any doctor or nurse to be alone with this decision," said Nancy Berlinger of the Hastings Center, a bioethics research institute.
Having separate teams make decisions also is intended to ensure patients get a fair shot at care regardless of their race, social status or other personal factors.
Berlinger noted that underlying social inequities can still persist — for example, poorer people tend to be sicker — but that those are deeper injustices that can't be remedied in the throes of a pandemic.
Another grim calculation that experts say hospitals could make is how long a patient might need a hospital bed or ventilator and how many more lives the machine might otherwise save. That would help forestall an even more wrenching decision many doctors in the U.S. likely have never faced — whether to take a patient off a machine to free it up for others.
The norms don't apply in the current crisis and taking precious resources away from one patient to save others in a pandemic "is not an act of killing and does not require the patient's consent," said a paper addressing the COVID-19 emergency published last week in the New England Journal of Medicine.
The authors noted that patients and their families should not be shielded from the realities and should be warned in advance of the possibility their loved one could be taken off a machine.
Hospitals should also prepare alternatives for those who don't make it to the top of the list for limited resources, such as stocking up on morphine, said Philip Rosoff of Duke University's Trent Center for bioethics.
It's not yet known how dire the crisis in the U.S. will get. Last week, Dr. Deborah Birx, the White House coordinator for the coronavirus response, sought to calm fears, noting there's no evidence yet that a hospital bed or ventilator won't be available for Americans when they need it. Even in New York, she said, beds are still available in intensive care units and a significant number of ventilators aren't being used.
But what's happening overseas has health care workers around the world preparing for worst-case scenarios.
In France and Spain, hospital and nursing officials say nursing home residents who come down with symptoms of coronavirus are not necessarily admitted to intensive care.
In hard-hit regions, "they are hospitalized only when there is a chance to save them," said Marc Bourquin of the French Hospital Federation.
Jesús Cubero, general secretary of AESTE, an association of nursing homes, said some residents end up dying after being unable to get into full hospitals.
In northern Italy, Dr. Luca Lorini at the Pope John XXIII hospital in hard-hit Bergamo, compared how patients are being triaged to people waiting for an organ transplant.
"One heart and 10 people who are waiting for a heart transplant. Who gets the heart? The one who has the greatest chance of living better and longer with that heart," he said.
In the U.S., the rapidly multiplying cases is creating fear that hospitals could soon be overwhelmed.
"The fact that we're in a situation that one day we may not have enough ventilators is terrible and unacceptable," said Zachary Shemtob, whose husband has been sedated and on one of the machines at NYU Langone hospital since testing positive for the virus.
Curren, the Virginia man whose father died of COVID-19 last week, said he wouldn't fault health-care workers for any of the agonizing decisions they may have to make in coming weeks — and trusts that they have the training to do so.
"These people are doing a fantastic job under war-time conditions," he said.
Copyright © 2020 by The Associated Press. All Rights Reserved.
Suburban Mariano's Employee Tests Positive for Coronavirus – NBC Chicago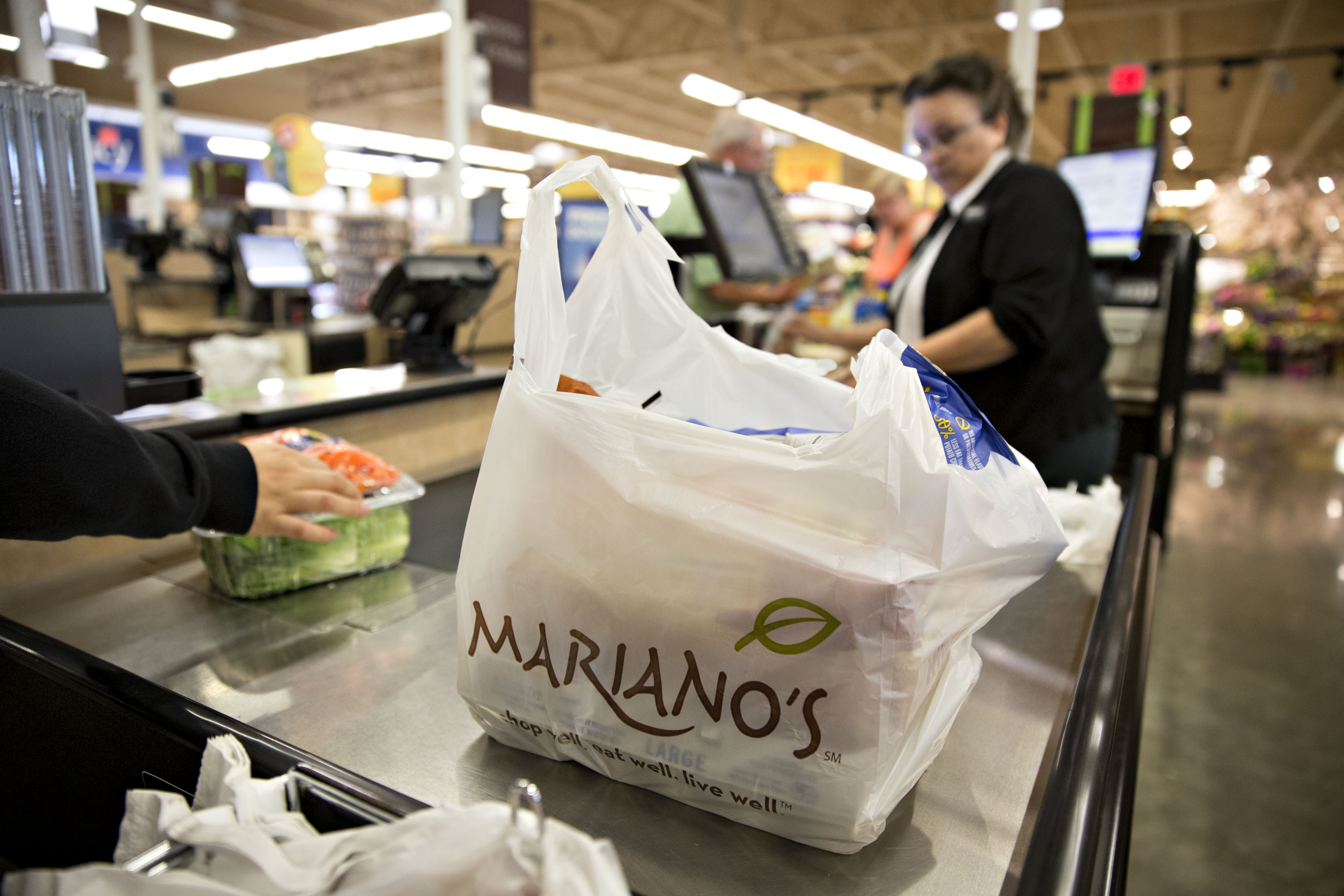 An employee at a Mariano's in suburban Skokie has tested positive for coronavirus, the company said Sunday.
"We are supporting them as they receive medical care, and wish them all the best in their recovery," a spokeswoman for the grocery store chain said in a statement..
The spokeswoman said that upon learning of the case, Mariano's followed all sanitation and cleaning procedures per Centers for Disease Control and Prevention guidelines at the site, and communicated to the store's team of the diagnosis.
"We will continue to follow guidance from local, state and federal agencies, including the CDC and other health organizations," she added.