Gigi Hadid says people told her she 'didn't have a runway body'
Gigi Hadid is a big hit in the modeling industry today, but her opportunities seemed limited — at least to others — when she began in the profession.
"At the time I was still starting out in my career, I was coming out of high school, I still had my volleyball body," the 24-year-old told i-D Magazine. "It was a body that I loved. I knew how hard I worked to have those muscles, to be curved in those places — I kind of miss it now. At the time, people were hard on me and tried to say that I didn't have a runway body."
Hadid said that, when she was cast, she was usually covered up. It meant a lot to her in 2014 when high-profile designer Jean Paul Gaultier sent her down the runway wearing very little.
Hadid faced criticism not from the industry but from the people looking in, after she lost weight over the next few years. She revealed in February 2018 that the changes in her body were the result of an autoimmune disease, and she appeared to dismiss rumors that they were caused by dieting or drugs.
Although stress & excessive travel can also affect the body, I have always eaten the same, my body just handles it differently now that my health is better. I may be "too skinny" for u, honestly this skinny isn't what I want to be, but I feel healthier internally and (cont)

— Gigi Hadid (@GiGiHadid) February 11, 2018
For those of you so determined to come up w why my body has changed over the years, you may not know that when I started @ 17 I was not yet diagnosed w/Hashimoto's disease; those of u who called me "too big for the industry" were seeing inflammation & water retention due to that.

— Gigi Hadid (@GiGiHadid) February 11, 2018
In her new interview, Hadid explained that, eventually, she hopes to expand her focus to creating, one way or another.
"I think that as I get older… well one day I'll start a family and I don't know if I will always be modeling," Hadid said. "I love the creative side of fashion, it's so fulfilling. The people I work with make me so happy, I'm so lucky to be around them. But who knows? Maybe I'll take up full time cooking!"
For now, she's busy walking the runways; Hadid appeared in presentations for Versace, Fendi, Prada, Burberry and more in the past few months alone.
Read more from Yahoo Entertainment:
Want daily pop culture news delivered to your inbox? Sign up here for Yahoo Entertainment & Lifestyle's newsletter.
Bhad Bhabie Calls Out Billie Eilish For Not Answering Her Direct Messages: 'I Guess That's What Happens When Bitches Get Famous'
Poor Bhad Bhabie… she clearly just wants someone to slide into her direct messages on social media!
The teen rapper better known as the Cash Me Ousside girl — real name Danielle Bregoli — is fuming right now because newly-minted music superstar Billie Eilish apparently put her on read and didn't return any of her direct messages.
Related: Billie Strips Down In New Video To Protest Body Shaming!
On Saturday, the 17-year-old rap artist and all-around bad girl explained her issue with the Bad Guy singer during an Instagram Live video, noting the lack of response down in the DMs. Speaking to her fans about the terrible ordeal (LOLz!), Bregoli explained her confusing maybe-friendship with the Grammy-award winning artist, saying:
"I think I'm friends with Billie, I don't know if Billie is my friend. Every time I DM her and give her my number, she doesn't text me. I mean, I don't know, I guess that's what happens when bitches get famous. It could be that. I'm not tripping. I know who my real friends are."
Awww! Not gonna lie, we low-key kinda feel for Bhabie here… seems like she just wants a friend, ya know?!
Here's the full moment captured on camera (below):
We all need a pal sometimes… maybe the rap sensation is just feeling extra lonely with the coronavirus quarantine going around and all that?! Totally understandable if so!!!
Related: Skai Jackson Files Restraining Order Against Bhad Bhabie Following Threats
And while Bregoli's fellow teen would-be-friend hasn't yet responded to any overtures from her potential gal pal, Eilish nevertheless did post to social media this weekend. The talented crooner celebrated the one-year anniversary of the release of her debut album (below), thanking fans for all their unwavering support in the process:
Awwww! Very classy, Billie! You go, girl!!!
Related: Whatever Happened To Bhad Bhabie's Self-Directed Instagram Break?
But seriously, y'all, what do you make of this Bhad Bhabie thing?? Random and funny, or should Billie respond to the messages — whether just to be polite, or maybe to be an actual friend to Bregoli? Something tells us a music collab between these two, for example, would be quite interesting, to say the least!
Is that in the cards? Anything going on here?! Or is Bhabie going to keep getting left on read?? Such an interesting situation LOLz…
Sound OFF with your take on this unlikely and frankly kind of bizarre celebrity connection down in the comments (below)!!!
[Image via WENN/Avalon]
Dressing Up For Date Night at Home During the Lockdown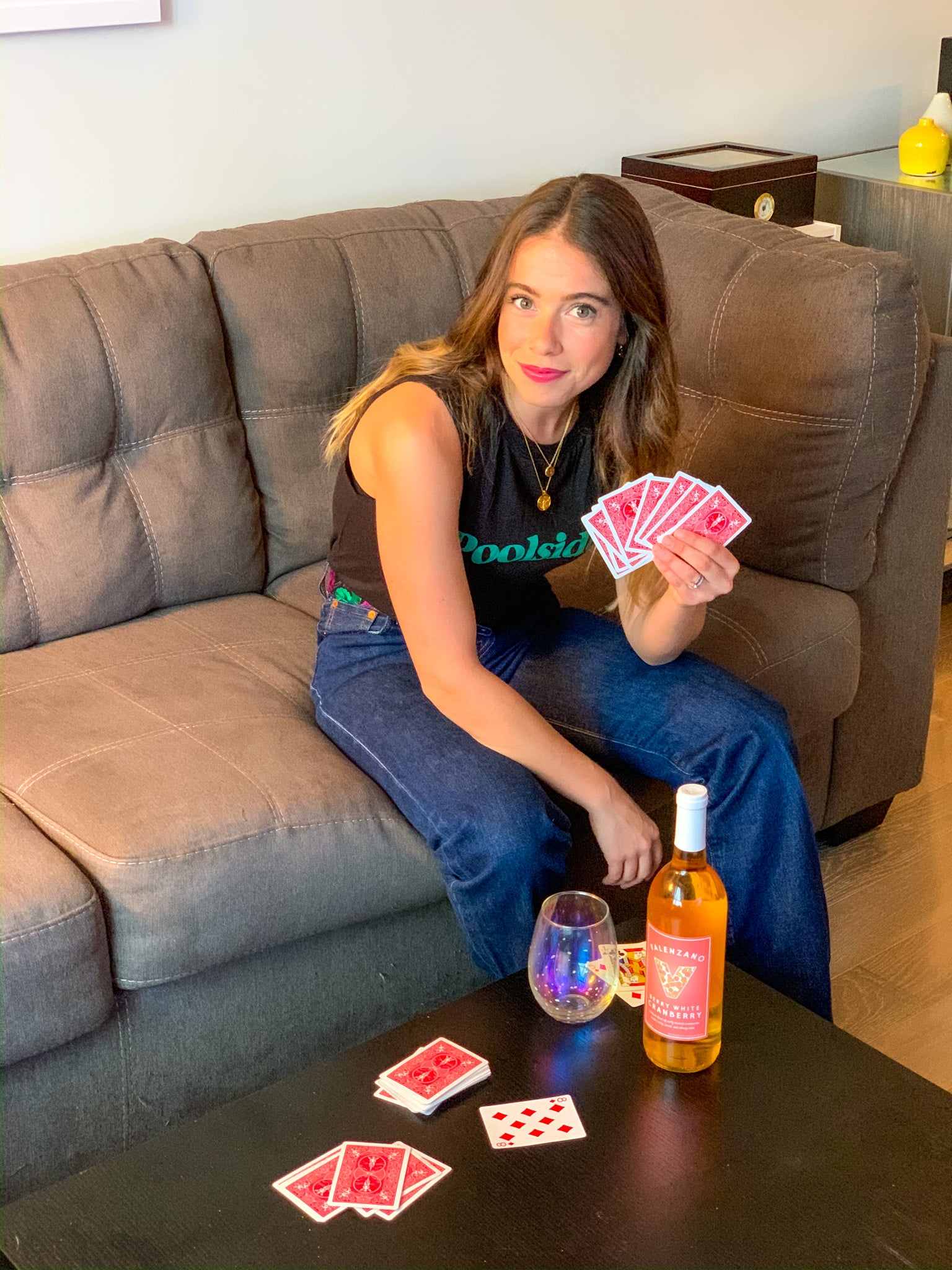 Even though I am a fashion person and I love styling outfits, with nowhere to go and no people to see, I shunned my closet and started living out of my sweats drawer. The minute I found out we'd be on lockdown due to the spread of the coronavirus, my heeled booties and pumps started collecting dust. Seriously, I think it started happeing instantly. Save for one day, all of my "outfits," if you can even call them that, were mismatched, each piece selected for the sole purpose of comfort. I think my future husband and lockdown partner, Joey, fully expected this, if he even expected anything at all. He, too, has been wearing the same pajama pants and t-shirts. I can't even remember what he looks like in a suit, his typical daily uniform. My cat, I think, is the most confused. Part of our regularly scheduled programming in the morning involves her staring up at me from the bed as I try on different looks before pouring her a cup of "nummies" and heading out the door.
Dressing up had started to feel like an indulgence that I wasn't ready to allow myself.
So when I decided to dress up for lockdown "date night" this weekend, I had to warn the crew. I warned them on Wednesday. Also, we had to plan something to do. We settled on a game of Rummy 500, wine, and takeout to support a local business. (The cat would have her favorite flavor of Fancy Feast pâté.) I had to try to remember how much time I needed to get ready. I even went so far as to shrug on my robe after stepping out of the shower, which makes me feel a little sexier while blow-drying my hair than if I had opted for sweats.
Even though I was excited to unwind and also do things that make me feel beautiful, I almost felt guilty instilling a sense of normalcy to my Saturday night. Was this, like, OK? Could I swipe on a red lip, get kind of drunk without feeling bad about it, and maybe even have sex? Part of me still doesn't feel right about enjoying myself, not while people are getting sick and others are being socially irresponsible in their lack of social distancing. I feel the same sense of shame that I'm sure many other Americans do right now. Dressing up — and everythign that goes with it — has started to feel like an indulgence that I wasn't ready to allow myself.
While I considered it, I didn't end up putting on a fancy silk slip or anything of that nature. I'm also a firm believer in dressing for the occasion. It just sort of helps me divide my closet into sections as I reserve certain pieces for certain places. I figured that a night of cards called for my favorite dark-wash Levi's and the old vintage belt I separated from its floral dress. My favorite graphic shirts are those with their own sense of irony and wit, hence the muscle tee that reads "Poolside." I added some gold necklaces, hoop earrings, my engagement ring, and black kitten-heel pumps from Charles & Keith.
I couldn't remember the last time I'd looked in the mirror and thought, "This outfit is so me," but it was happening! The fashion girl in me did still exist. I was sure to acknowledge all the usual quirks — seeing to it that my longer and shorter necklaces came to the perfect lengths and refastening them until they did. That sort of thing usually bothers me and elicits a loud, frustrated sigh. "What happened?" Joey would shout from the living room in the middle of his video game at 7:56 p.m. when we were supposed to be at the restaurant to meet our friends at 8 p.m. I'd be rushing. Stupid necklaces. But this Saturday night, I was gentle with my jewelry and thoughtful about which necklaces I put on — my hammered gold coin pendant and the chain with the "J" charm for Joey. It felt really romantic.
When I emerged from the bedroom, Joey definitely did a double take. It made me realize two things: 1. I felt sexy, and 2. I should probably put on makeup more often so he gets used to the way I will look walking down the aisle on our wedding day and doesn't run away shouting, "I don't know this person." I loved my outfit because it really spoke to my sense of personal style, which is apparently still the same two lockdown weeks in — a little sporty, a little eccentric, a little colorful. I loved my outfit so much that I stayed in it until 11:30 p.m. when the post-poke-bowl munchies hit and I needed an elastic waistband to embrace the ice cream sundae I was about to make. As I sat there on the couch in sweats, looking down at my bowl of mint chocolate chip, I felt glad it wasn't the only thing I'd made that night. I also made an outfit. Yeah, that feels like me.
Image Source: POPSUGAR Photography / Sarah Wasilak
Fabergé owner warns of significant Covid-19 impact
Gemfields, the British mining corporation and owner of jewellery brand Fabergé, has revealed that the global health crisis will have a "significant detrimental impact" on its operations, revenues and business during 2020 and possibly beyond.
All standalone Fabergé retail points have now closed as a result of the coronavirus pandemic, including the jeweller's directly-managed operations in Harrods in London and the Galleria Mall in Houston, and boutiques operated by partners in Dubai and Kiev. Additionally, approximately 80% of the jeweller's multi-brand partners have closed their doors, as well as some 80% of the workshops that supply Fabergé.
Gemfields has also suspended all but critical operations at the Kagem emerald mine in Zambia for a month, and its operations in Mozambique, including the Montepuez Ruby Mine, are prepared to implement similar suspensions if necessary. Exploration projects have been suspended and the group's offices in London and Jaipur are closed to allow staff to work from home. 
But perhaps the biggest disruption is the postponement and possible cancellation of several key gemstone auctions. Last year, 93% of the group's revenue came from these auctions, but widespread travel restrictions have hindered clients' ability to closely inspect the gems before bidding.
"Once the travel restrictions are lifted, additional time will clearly be required before life and business returns to a relative 'normal'. There is clearly also a risk that travel restrictions may be extended or re-introduced should a second wave of virus infections take hold in key countries," Gemfields said in a statement on Monday.
It was planning to host an emerald (high quality) auction in May, while a ruby (mixed quality) auction was set to take place in June. These are likely to be rescheduled for the second half of the year, and the subsequent emerald and ruby auctions could be cancelled altogether. 
Shares in the group fell 0.6% to 8.45p on Monday morning following the announcement. 
Copyright © 2020 FashionNetwork.com All rights reserved.