HiMirror Slide smart mirror review: A high-tech makeup mirror
If you spend much time or money searching for the best makeup and skincare products, you know it's sometimes difficult to figure out which serum can fade hyperpigmentation, which mascara can volumize without clumping, or which night cream does the best job of smoothing fine lines. Unless you put your skincare regimen in a dermatologist's hands, it's a whole lot of trial and error and Amazon returns to find the perfect lineup for your unique face.
A number of smart lighted mirrors have come on the scene in the last few years, most of which promise to help you track progress you're making (or not) tackling your complexion woes. I purchased the HiMirror Mini not long after its release in mid-2018 in hopes that its smart features would help me tackle some lingering melasma from a pregnancy and stave off the smile lines that were causing me to develop frown lines, too.
While the results weren't dramatic, I liked my HiMirror Mini enough that when the company released their new Slide smart mirror, I forked out the cash to see how it compares.
What is the HiMirror Slide?
The HiMirror Slide is half tablet loaded with skincare and makeup apps, half makeup mirror with lights. The tablet and mirror sit side by side when the Slide is expanded, and when it's closed, the mirror sits on top of the tablet. On the back is an adjustable stand that can rotate to accommodate multiple angles and orientations.
How does the HiMirror Slide work?
While the first products from HiMirror were essentially Android tablets covered by two-way mirrors (so you could see the tablet through the reflective glass), the new Slide is simply a mirror that slides to the side to reveal the tablet underneath. To be honest, I found this approach didn't make a lot of sense.
The mirror half has a cutout near the bottom. When the Slide is closed and the tablet is covered by the mirror panel, text on the tablet instructing users to open up the Slide can be seen through the cutout in the mirror. This space could have been used in so many more useful ways. The cutout area is plenty big enough to allow for the vanity lights' power and brightness buttons, but as it is, you can't use the lights at all with the Slide shut. And also, there's a chunk of your mirror that is just a hole. Why?!
But why wouldn't you be using the Slide open, Sarah? Well, in my case, the fully expanded Slide takes up too much real estate on my (admittedly tiny) vanity. All the way open, it's over 13 inches across, and the kickstand on the back is off-center and isn't sturdy or wide enough to feel very stable. I feel like I'm going to knock the whole thing over when I tap the tablet.
Oh, and the tablet opens to sit at the left of the mirror, which could possibly be so your right hand doesn't block your view of the tablet as you do your makeup, but it's also awkward to tap the screen on the opposite side of your body.
For the price, I would have liked to see a mirror that felt sturdy and durable. The Slide just doesn't. And several aspects of the design seem poorly thought out.
What does the tablet do?
One of the main things that excited me about the idea of a new HiMirror was the possibility of a new tablet interface, or at least more features. But, after comparing it side by side with the Mini, there's nothing noteworthy about the software of the new HiMirror. It's a locked-down and frequently glitchy Android OS that gives you access to YouTube, Spotify, a daily horoscope, Alexa, Facebook, Instagram, your local weather, some beauty tools (more on those below), and more.
The Slide is marketed as being a great travel mirror, and it does fold up nicely. I didn't trust it to survive a recent trip in my checked luggage, so I traveled with the Slide in my carry-on. Unfortunately, I forgot it has a computer in it and didn't take it out in security. Bag check for me.
Overall, not much to see here that you couldn't get by propping your phone up on the vanity. And many several reviewers noted the Slide's tendency to power on and light up at random times. I experienced this as well, and it was a little startling when it played its powering-on tune and turned its lights on full blast in the middle of the night. Again, why?!
Where the Slide really does shine, though, is in its special features.
What are the Slide's smart features?
The major appeal of these smart mirrors is their ability to scan your face and track changes to your complexion over time. The Beauty Box app allows you to keep track of what products you're using, when they expire, and whether they're working.
A built-in camera takes photos of your face and scans for changes over time. As with the previous HiMirror, I found the photo quality to be poor and that it's incredibly picky about the light in the room. It's very difficult to get consistent results with the face scanner if you have a window in the room, even though the mirror's lights turn on like a camera flash when the picture is taken.
You can create a time lapse with these photos, and that can tell you a lot about your skin's changes if you can get the lighting right, consistently.
Should you get the HiMirror Slide?
The HiMirror Slide might be the perfect mirror for someone who has enough vanity space but wants to be able to put it away, is looking to keep track of their skincare products' expiration dates and effectiveness, or even just loves to watch YouTube videos while they get ready for the day. The HiMirror Slide can do all this, but it just feels a little unpolished. As for me? I went back to my sturdier, pedestal-style HiMirror Mini and packed my Slide away in the closet.
The product experts at Reviewed have all your shopping needs covered. Follow Reviewed on Facebook, Twitter, and Instagram for the latest deals, product reviews, and more.
Prices were accurate at the time this article was published but may change over time.
Coronavirus: Tech firm Bloom Energy fixes broken US ventilators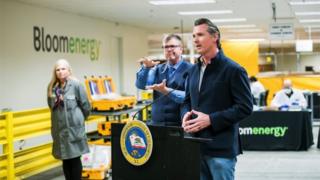 A Californian company that usually makes green-energy fuel cells is due to deliver 170 repaired ventilators to Los Angeles later on Monday after transforming its manufacturing process.
An engineer at Bloom Energy downloaded the service manual and taught himself how to dismantle and rebuild them in a day, the Los Angeles Times reported.
They had been in storage since the H5N1 bird flu outbreak of the mid-2000s.
Bloom says it is now working to find other stockpiles of disused machines.
On Saturday, as California Governor Gavin Newsom visited the manufacturing plant, he said: "We got a car and a truck and had [them] brought here to this facility at 08:00 this morning.
"And Monday, they'll have those ventilators back into Los Angeles all fixed. That's the spirit of California."
Mr Newsom said the the original manufacturers had initially told him it would take a month to fix 200 ventilators, which help patients breathe if they are having difficulties due to Covid-19 or other diseases.
He said he told Bloom: "We challenge you to do more and do better."
What do I need to know about the coronavirus?
And on 22 March, the company's chief executive, KR Sridhar, sent the governor a photo of 24 finished ventilators ready to be certified for use.
Mr Sridhar told CNBC: "We think we can do hundreds of ventilators – close to 1,000 ventilators – a week of refurbishment.
"This is the fastest way – we can take existing ventilators that are out there, get them working, get them back to the hospitals."
What are ventilators and why are they important?
Mercedes F1 to make breathing aid
The strategy contrasts with that of the UK, which is seeking to make thousands of new machines in partnership with manufacturing companies.
The UK has about 8,000 ventilators available and has placed orders for the same number again from existing manufacturers
Dyson has also received an order for 10,000 units of a new design – if it passes regulatory hurdles.
But manufacturers have said they will not be able to meet demand if coronavirus infections peak in the coming weeks.
Facebook Aims $100 Million at Media Hit by the Coronavirus
Facebook announced on Monday that it would dole out $25 million in grants to local news outlets and spend $75 million in a marketing drive aimed at news organizations internationally in response to the coronavirus-prompted economic downturn, which has caused advertising to plummet and has threatened media industry revenues.
Despite huge interest in news that has led to traffic surges and a rise in digital subscription sign-ups, the media industry has seen cutbacks as advertising has dropped sharply. Some alt-weeklies have laid off as many as three-quarters of their employees. BuzzFeed and American Media Inc. have instituted pay cuts. In Louisiana, The Advocate and The Times-Picayune have furloughed some staff and put the rest on four-day workweeks.
The money announced Monday will come on top of $300 million that Facebook, one of the world's largest tech platforms and a critical digital news gatekeeper, pledged last year to invest in local news by the end of 2021.
Campbell Brown, Facebook's vice president for global news partnerships, said in a post, "If people needed more proof that local journalism is a vital public service, they're getting it now."
In an interview, Ms. Brown said Facebook felt obliged to help local news organizations weather the downturn. The outbreak has punished many of them financially while they perform risky journalism on an essential topic. Many of them have posted their coverage outside their paywalls.
At the same time, increased traffic and subscriptions have not made up for advertising shortfalls.
"We have begun to make progress," she said, "subscriptions have begun to increase, but there's still a gap there, and if we can fill that gap, then we have a responsibility to do it."
Part of a $1 million Facebook grant announced two weeks ago helped The Post and Courier newspaper of South Carolina cover remote work costs for its journalists and expand its coverage across the state, Facebook said.
News outlets have long seen Facebook as an adversary. The social media giant and Google, the search company, dominate digital ad revenue, squeezing the bottom lines of traditional media.
Moreover, Facebook is built on users' sharing enticing content, including news articles. That gave the company an incredible amount of leverage over publishers, as a few tweaks to its algorithm could, like turning a spigot, direct traffic away from or to news articles. In recent years, the central News Feed pivoted away from an emphasis on hard news. ("News Feed isn't about news. It's still mostly about friends and family," Ms. Brown said.)
Amazing Technology|Experiment: Fish Vs Coca Cola Vs Mentos Vs Fanta Vs Sprite Catch Fishes From Hole


Amazing Technology|Experiment: Fish Vs Coca Cola Vs Mentos Vs Fanta Vs Sprite Catch Fishes From Hole

source