How to Apply IoT in the Oil and Gas Industry
The Internet of Things has found its way into various industries: automotive, agriculture, green energy. One of the areas that IoT is about to conquer is the oil and gas world. Today, companies hire plant managers, machine operators, and field personnel to predict when machines need maintenance and upkeep. These managers monitor IoT to keep employees safe in the work environment and to improve production.
McKinsey Global Institute's research indicates that IoT has the potential to attract $11.1T by 2025.
Mining and the oil and gas companies have a potential economic impact of $930B within the next decade. As such, it doesn't surprise anyone that the Oil and Gas industry is interested in leveraging IoT?
Why use IoT in the oil and gas industry?
In the Oil and Gas industry, the advantages of oil and gas IoT applications lie in creating value through an integrated deployment strategy. IoT will allow the industry to digitize, optimize, and automate processes that were previously unconnected to save time, money, and increase safety.
IoT is the technology that allows devices, machinery, and other equipment to communicate with each other. It lets oil and gas companies manage and store data, create applications, and set security protocols.
Preventive Maintenance
Companies hire plant managers, machine operators to predict when machinery needs maintenance. With IoT, you can accurately predict when maintenance has to be done, and you can keep your employees safe while improving production.
For oil and gas companies, IoT run software tells the manager when to repair the machinery, and alerts them when something is likely to break. It is essential in the Oil and Gas industry to protect all equipment — including watching out of any leaks and even minor breaks. IoT can handle all alerts. Just lean back and let the Internet of Things do its thing.
Remote Services
Oil and Gas are generally found in the remote areas of the globe that are hard to reach areas. The isolated terrain leads to problems with the upkeep of equipment, and any extraction needs from the sites in remote locations cause increased risks. IoT helps with:
Safety needs of both the employees and the equipment.
High prices for maintaining equipment.
Saves on the high expenses for the workers.
It provides less chance of human error.
What IoT allows for is that oil and gas companies are being able to remotely manage everything on their plants at any time. IoT can help manage and provide alerts for issues from minor leaks to system breakdowns. Companies can set the monitoring devices on their machines to take care of everything.
The biggest threat to all industries.
The most significant threat to all industries — one that makes companies lose billions of dollars every year, is Non-Productive time (NPT).
When workers and employees are not required to be on-site observing equipment and monitoring issues it saves vast amounts of time and money. That's what IoT has done for the Oil and Gas industry.
Safety
Oil and gas sites are generally dangerous for workers' well being and safety. Included with the oil and gas industries is water. Another high-cost area of service. Some reservoirs are up to 3,000 meters deep and many are far offshore. Dangerous circumstances are always involved in the water industry, as well as in oil and gas.
Using IoT in these areas at remote sites can prevent health issues, injuries, or even save lives.
Case study: Applying IoT in the oil, gas, and water industries.
The digitalization of IoT in the oil, gas, and water industries. IoT has saved a lot of money and provided greater protection for remote workers and employees who have to remain far from civilization without support.
Before IoT — there was only the desktop app.
Of course, desktop apps are still a thing, but not as much for remote maintenance cases. Desktop solutions work for in-house needs, where either security matters, or that involve end-to-end tasks.
The businesses of the client revolved around RFScada units. These data delivery devices work great for industrial areas. RFScada units comprise the desktop app and phone apps that took over 16 years to develop. These devices are used for tracking and gathering data.
The first desktop app contains a whole lot of functionality and was super detailed, and too complex. The computer with the app had to be connected to the monitored gateway at all times. The portal, online, could be connected to a number of machines.
However, to see the data and track if anything was outside the expected ranges — a person would have to look on the screen and watch the tracking. This process was not very convenient. Remote locations, nighttime, and problems when monitoring moving cargo — all were issues that had difficulties to solve.
Finally, the request was made to turn the entire system into a web platform that brings the best of IoT to oil, gas, water, and other industrial areas.
Turning the constraints into advantages.
From a business standpoint, RFSCADA is a great system for enterprises, but it had a hard start in development. The solution took some considerable constraint and workarounds but came out with a legacy system with a mix of cutting-edge IoT offerings.
The beginning challenges.
Design scalable and easy maintainable architecture for the platform.
Simplify the flows for different user roles yet maintain in-company and in-system security.
Developed a user-friendly way for updating firmware via UI.
Wrote a compatibility script on Lua that generates configuration updates for firmware based on changes a user makes.
Found a reliable gateway to process data and relay that data to and from the needed devices.
The RFScada gateway system also works with cellular traffic.
Able to analyze what is needed and cut all unneeded data.
Data has been prioritized for the simplicity of the users.
With limited time, this system went through the MVP approach. All functionality was sorted, and the main component was selected for the main components that would be used for future platforms. The primary purpose has always been to make this IoT system adoption as easy as possible to work with.
IoT web platform for monitoring and managing plants remotely
With a minimalist design concept, one of the main perks of using IoT in oil, gas, or any other industry lies with minimum effort for the user. In the system, you configure everything once, and you're done — you'll get notifications when needed. You only need to return when making configuration updates, and most of these are simple, time-saving, and automated.
The new digitized IoT system includes:
Registered number of users with individual access rights
Ability for the lead engineers and plant owners to configure the needed monitoring.
Regular workers have the ability, if given access, to track the plants they're assigned to.
Configuring sensors attached for each unit.
Specific parameters (including hierarchy, measuring frequency, and type) and conversions in common measurement units.
Text message and call alarms.
Users receive a timely alert in case of spikes on any sensor. The user acknowledges the receipt of the warning so the system can shut down if needed.
All data and events are logged, as well as the complementary configurations.
For each sensor, the user can configure the acceptable, risk, and danger range and also set up impressions for tracking. This variety leaves parameters created in the flexible dashboard and allows differing widget types.
Conclusion
IoT handles a lot of routine scenarios for everything. That's why we love applying it to simplify work and leisure — making time for more intellectual pursuits.
Thanks for reading. Please feel free to write a word of two of what topics you'd like to read about.
Amazon Prime allows in-app purchases for Apple users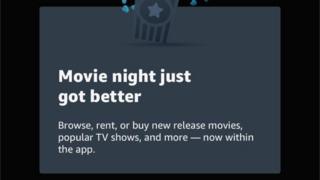 Amazon has begun allowing iPhone and Apple TV users to make in-app purchases and rent movies and shows from Amazon Prime.
The move is a reversal for Amazon which had forced Prime users to leave the app and go to Amazon's website via a browser to make purchases.
It is also a change for Apple which will allow Amazon to use its own payment system.
The changes apply to Amazon Prime users in the US, UK and Germany.
People using iPhones, iPads and iPod touches as well as Apple TVs began to see the changes on Wednesday.
A message from Amazon alerted users to the new feature when they opened the app.
"Browse, rent, or buy new release movies, popular TV shows, and more – now within the app," it read.
Prior to the change users of iOS or tvOS could only watch shows or films they had purchased directly from Amazon's website or on another device such as an Android phone or Amazon's Fire TV. If an Apple user wanted to buy a video from Prime they had to complete the transaction on Amazon's website.
The change is also significant for Apple because it means Amazon will be able to use its own payment system.
Apple typically charges a 30% commission for in-app purchases on its iOS and requires those apps to use Apple's payment system.
Allowing Amazon to use its own payment system means Amazon will avoid this charge.
Apple has said it made exceptions for "qualifying premium video entertainment apps". Those apps include Prime Video, Atlice One and Canal+.
Other companies have argued Apple's 30% charges are unfair
Spotify filed a complaint with the European regulators about the charge. The music streaming site referred to the 30% fee as a tax and said it would be forced to artificially inflate its prices as a result.
T-Mobile Closes Merger With Sprint, and a Wireless Giant Is Born
OnePlus 7T vs. 7T Pro vs. McLaren edition: Confused? These are the main differences
Given the similar naming conventions of the OnePlus 7T, OnePlus 7T Pro and OnePlus 7T Pro McLaren Edition, it's easy to be confused about OnePlus' line of 7T phones. Released in the latter half of last year, the OnePlus 7T is the phone-maker's current flagship phone. OnePlus then followed it up with a handful of other variants.
The reality is that these variants are similar, but there are some important differences to note in their specs, design, availability and, of course, price. I've broken down the main points below and you'll also find a full spec comparison table at the end. 
OnePlus 7T series design differences
The 7T and 7T Pro are unmistakably cut from the OnePlus cloth with their soft blue colours and frosted glass backs. The major difference you'll see is the cameras on the back — the 7T's cameras are encased in a circular unit while the 7T Pro's cameras are arranged in a vertical strip. All three phones have fingerprint scanners built into their displays.
The 7T Pro McLaren's design veers off even further. It's physically identical to the standard 7T Pro in terms of camera layout, but the blue colour has been replaced with a glossy black finish, with a subtle Damascus Steel effect that shimmers just under the surface. There are McLaren Papaya Orange effects dotted all over, including a metal strip around the cameras, an orange function slider on the side and an orange stripe around the bottom half of the phone. 
Screen sizes?
The 7T has a 6.55-inch display with a 2,400×1,080-pixel resolution. Both Pro models have larger 6.67-inch displays with 3,120×1,440-pixel resolutions. That gives the Pros a pixel density of 516ppi, which is sharper than the 7T's 402ppi. You may not really notice the marginal 0.12-inch size increase in day-to-day use, but the extra resolution bump should help make those high-res photos and videos pop a bit more. 
Keep in mind that the 7T has a teardrop-shaped notch that cuts into the top of the display to house the front-facing camera. The Pro models don't have this as their selfie cameras mechanically slide out from the top edge of the phone when needed. As a result, their displays stretch from edge to edge and remain entirely unbroken by notches.
What about processor power?
All three phones pack Qualcomm's latest octa-core Snapdragon 855 Plus processor, clocked at 2.9GHz. The 7T and 7T Pro both pair that with 8GB of RAM, while the McLaren version comes with a meaty 12GB. It's odd then that on benchmark tests, it's the standard 7T that delivered the best scores.
On the Geekbench 5 processor test, the 7T scored 2,911 (multi-core), beating out the 7T Pro McLaren's 2,854 and the standard 7T Pro's 2,883. Similarly, on the 3DMark Sling Shot Unlimited graphics test, the 7T achieved an overall score of 8,782, beating the 7T Pro's 8,720 and the McLaren's 8,725. Admittedly, these differences are razor thin and barely qualify as differences at all. It is a little surprising though that the McLaren edition, with its RAM boost, didn't produce better scores than its siblings. 
These phones are more than capable of handling any of your everyday tasks, including video streaming and photo editing. Gaming was a breeze too, even with the graphically demanding game Asphalt 9: Legends, which played smoothly and had no discernible drop in frame rates. 
They all run Android 10 software, but the McLaren's software has had some visual tweaks. It's mostly just a darker colour scheme, with lots of orange thrown around to match the look of the outside of the phone. 
Is the storage the same?
This is where you get more for that "Pro" name. The standard OnePlus 7T comes with 128GB of storage, while both Pro models double that with 256GB. That's worth keeping in mind, given that none of the phones have expandable storage. If you shoot a lot of video and store a lot of files locally, opting for a higher-capacity model is a smart investment. 
Are the cameras the same?
They all have a triple-camera setup on the back, consisting of a 48-megapixel main camera, a 16-megapixel super wide angle camera and a telephoto camera. The 7T, however, has a 12-megapixel telephoto camera, while both Pros have 8-megapixel telephoto cameras. It may seem odd that the telephoto resolution on the Pro models is lower, but they do offer 3x zoom, instead of only 2x.
In my testing, images from all three phones are sharp, with decent exposure and accurate colours. They all have a dedicated macro mode too, which lets you focus on objects close to the lens. It's great if you want to take up-close shots of, say, insects and flowers, when you're out and about. The overall camera quality is good, but it's not quite up there with top models like the Pixel 4, iPhone 11 Pro or Galaxy S10 Plus. If photography is of the utmost importance to you, it's worth considering spending more cash.
Do they use the same batteries?
The OnePlus 7T has a 3,800-mAh battery, which survived an impressive 16 hours on our battery drain test. The Pro models have slightly larger 4,085-mAh batteries, which isn't a huge step up. I don't expect much difference in battery life, particularly when you need to take into account the slightly larger displays that suck up more battery.
Anecdotally, I was able to get a day of mixed-use from the phones before they needed a top up. Like all smartphones, I'd want to give them a full recharge overnight. All phones support OnePlus' ultra fast charging, which can take the phone from 0% to over 60% charged in 30 minutes. This is great if you forgot to give your phone a boost before heading on a night out. 
Do they have 5G?
Currently, these three phones do not have a 5G version. If you want to use a OnePlus phone on a fast 5G network, you'll need to go for the OnePlus 7 Pro 5G — which is available in the UK and the US carrier Sprint.
Price and availability
Unsurprisingly, given its fancy branding and extra RAM, the OnePlus 7T Pro McLaren edition is the most expensive of the three phones, coming in at £799. It's only available in the UK and Europe for now, but for reference that price converts to about $1,010 or AU$1,515.
The regular 7T Pro is also unavailable in the US or Australia, but its UK price of £699 converts to about $895 or AU$1,330. The standard OnePlus 7T is available in the US and will set you back $599 or £549. It isn't officially sold in Australia but that price converts to about AU$1,045.
What about OnePlus' other 2019 phones?
The 7T series isn't the only phone range the company launched last year. Back in May, 2019, it launched the OnePlus 7, 7 Pro and 7 Pro 5G.
The OnePlus 7 has a smaller 6.44-inch display, Qualcomm's Snapdragon 855 (but not the faster Plus version), and either 6 or 8GB of RAM, depending on where you buy it. It also has a screen notch to house the front-facing camera and a dual camera on the back with a standard and telephoto lens.
The OnePlus 7 Pro meanwhile has a 6.67-inch display, the same Snapdragon 855 chip, a triple rear-camera setup on the back (normal, telephoto and superwide) and it has the pop-up selfie camera found on the 7T Pros. 
Finally, we have the OnePlus 7 Pro 5G, which, as mentioned before is simply a 5G-enabled version of the 7 Pro.
OnePlus 7T series specs comparison
| | OnePlus 7T | OnePlus 7T Pro | OnePlus 7T McLaren edition |
| --- | --- | --- | --- |
| Display size, resolution | 6.55-inch AMOLED; 2,400×1,080-pixels | 6.67-inch AMOLED; 3,120×1,440-pixels | 6.55-inch AMOLED; 2,400×1,080-pixels |
| Pixel density | 402ppi | 516ppi | 402ppi |
| Dimensions (Inches) | 6.34×2.93×0.32 inches | 6.40×2.99×0.35 inches | 6.40×2.99×0.35 inches |
| Dimensions (Millimeters) | 160.94×74.44×8.13 mm | 162.6×75.9×8.8 mm | 162.6×75.9×8.8 mm |
| Weight (Ounces, Grams) | 6.70 oz; 190g | 7.27 oz; 206g | 7.27 oz; 206g |
| Mobile software | Android 10 with OxygenOS | Android 10 with OxygenOS | Android 10 with OxygenOS |
| Camera | 48-megapixel (standard), 12-megapixel (telephoto), 16-megapixel (ultra wide-angle) | 48-megapixel (standard), 8-megapixel (telephoto), 16-megapixel (ultra wide-angle) | 48-megapixel (standard), 8-megapixel (telephoto), 16-megapixel (ultra wide-angle) |
| Front-facing camera | 16-megapixel | 16-megapixel | 16-megapixel |
| Video capture | 4K | 4K | 4K |
| Processor | 2.96GHz octa-core Qualcomm Snapdragon 855+ | 2.96GHz octa-core Qualcomm Snapdragon 855+ | 2.96GHz octa-core Qualcomm Snapdragon 855+ |
| Storage | 128GB | 256GB | 256GB |
| RAM | 8GB | 8GB | 12GB |
| Expandable storage | None | None | None |
| Battery | 3,800-mAh | 4,085-mAh | 4,085-mAh |
| Fingerprint sensor | In-screen | In-screen | In-screen |
| Connector | USB-C | USB-C | USB-C |
| Headphone jack | No | No | No |
| Special features | 90Hz display, dual-SIM, Warp Charge 30T | 90Hz display, dual-SIM, Warp Charge 30T | 90Hz display, dual-SIM, Warp Charge 30T |
| Price off-contract (USD) | $599 | Converted: $900 | Converted: $1,010 |
| Price (GBP) | £549 | £699 | £799 |
| Price (AUD) | Converted: AU$890 | Converted: AU$1,330 | Converted: AU$1,520 |
This article was originally published in November and has been updated.