Kobe Bryant Is a Finalist for the Basketball Hall of Fame
Kobe Bryant, the former Los Angeles Lakers star whose death last month continues to cast a pall over the N.B.A., was among eight finalists announced on Friday for induction into the Naismith Memorial Basketball Hall of Fame.
Bryant, who was 41, retired from the N.B.A. in 2016 after spending his entire 20-year playing career with the Lakers. He won five championships, was an 18-time All-Star and won the N.B.A.'s Most Valuable Player Award in 2008. A dynamic and hypercompetitive player, he also helped the league fill the void that was left by Michael Jordan's retirement.
Former N.B.A. stars Tim Duncan and Kevin Garnett will join Bryant on the ballot, while Tamika Catchings, a 10-time W.N.B.A. All-Star, was nominated by the women's screening committee.
Rudy Tomjanovich, Kim Mulkey, Eddie Sutton and Barbara Stevens are finalists as coaches.
To gain induction, finalists need a minimum of 18 of 24 votes from the honors committee, which is made up of Hall of Famers, basketball executives and administrators, and members of the news media. The class of 2020 will be announced in April.
Mike Breen, the longtime play-by-play voice for the Knicks on the MSG Network and the lead voice for N.B.A. broadcasts on ESPN and ABC, won the Curt Gowdy Media Award for electronic media. Michael Wilbon, an ESPN analyst and former sportswriter and columnist for The Washington Post, won the award for print.
Bryant and his 13-year-old daughter, Gianna, were among nine people killed in a helicopter crash near Los Angeles on Jan. 26. He was widely expected to be on the ballot even before his death, which prompted an outpouring of grief across the country. A public memorial service is planned for Feb. 24 at Staples Center, where the Lakers play their home games.
Bryant's death continues to affect players from around the league, including LeBron James, whose long relationship with Bryant had developed into more of a friendship over the last two seasons. James has pledged to continue Bryant's "legacy" this season on the Lakers.
Duncan, one of the premier centers in N.B.A. history, was a five-time champion and two-time M.V.P. with the San Antonio Spurs. Garnett, considered one of the greatest power forwards of all time, became the first high school player to jump directly to the N.B.A. in 20 years when he entered the draft in 1995. Garnett's early success with the Minnesota Timberwolves helped embolden Bryant to make the same leap out of high school the following year, and he soon emerged as one of the league's most dominant — and popular — figures.
MLB, Union Discuss Playing All Games in Arizona, Sources Say – NBC Chicago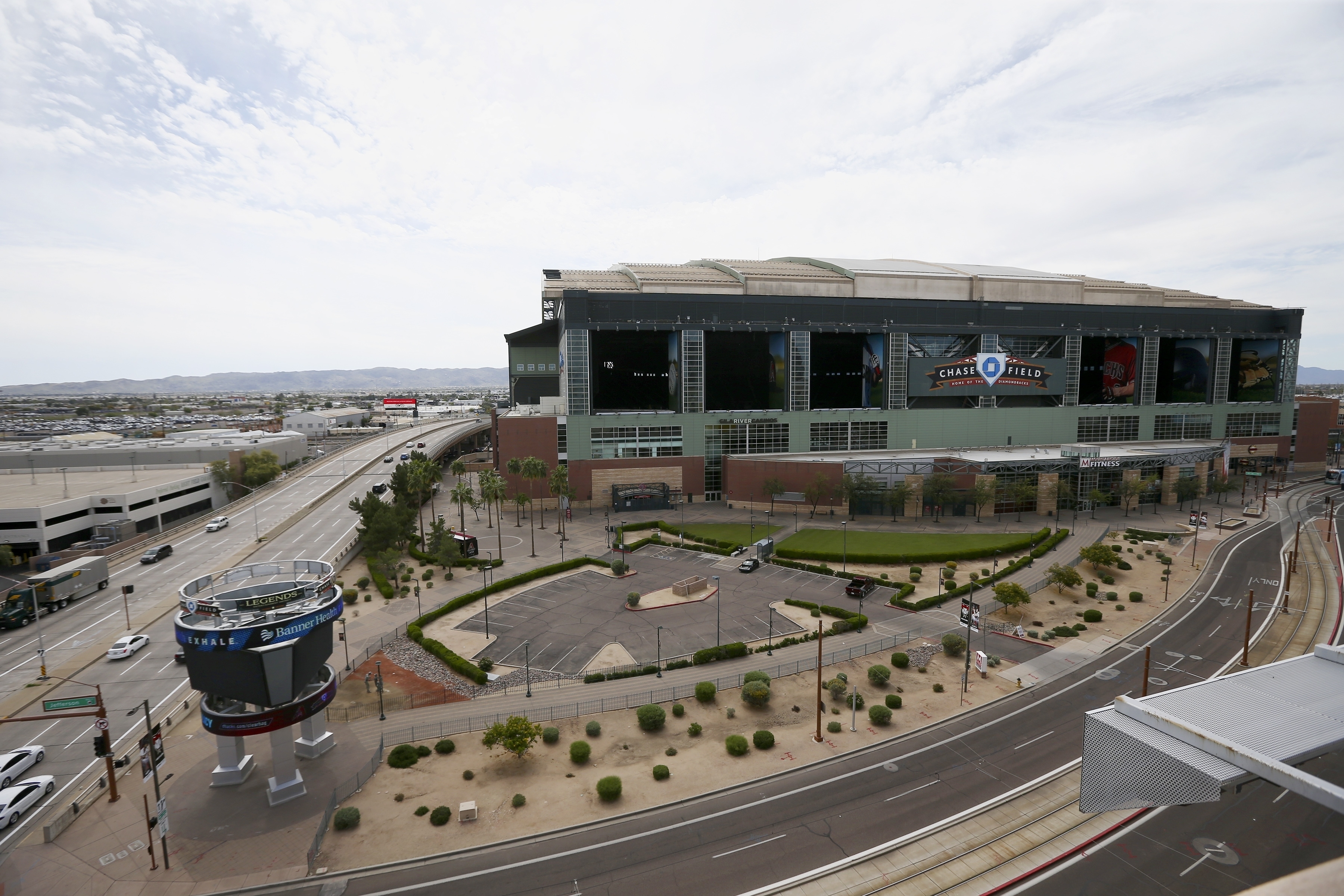 Putting all 30 teams in the Phoenix area this season and playing in empty ballparks was among the ideas discussed Monday by Major League Baseball and the players' association.
The sides held a telephone call to talk about paths forward for a season delayed by the new coronavirus pandemic, people familiar with the discussion told The Associated Press. They spoke on condition of anonymity because no details were announced.
Ideas are still in the early stage, and the Arizona option would have many obstacles to overcome, the people said.
Half of the MLB clubs hold spring training in Arizona, the other half in Florida.
Arizona's advantage is 10 spring training ballparks plus the Arizona Diamondbacks' Chase Field all within about 50 miles. Florida's spring training ballparks are spread by as much as 220 miles.
"It allows for immediacy of a schedule, where you might be able to begin it and televise it, provide Major League Baseball to America," said Scott Boras, baseball's most prominent agent. "I think players are willing to do what's necessary because I think they understand the importance of baseball for their own livelihoods and for the interest of our country and providing a necessary product that gives all the people that are isolated enjoyment."
"It gives them a sense of a return to some normalcy," Boras added. "You talk to a psychologist about it and they say it's really good for a culture to have sport and to have a focus like that, where for a few hours a day they can take their minds off the difficult reality of the virus."
Baseball's season had been set to start March 26 but spring training was halted on March 12. After the Centers for Disease Control and Prevention recommended restricting events of more than 50 people for eight weeks, MLB said it would not open until mid-May at the earliest.
Texas Rangers president of baseball operations Jon Daniels said MLB is examining different options and he didn't want to speculate.
"But, obviously, we'd all love to find a way to play, provided we could do safely, and that would be the priority," he said.
The players' association would want to survey its members to determine whether they would support such a plan, one of the people said.
"You're going to be largely separated from your families and you're going to have to function in a very contained way. It's not a normal life, this idea," Boras said. "You're going to have an identified group of people. You're going to have a constantly tested group of people. And you're going to have a very limited access of those people to the outside world so that you can assure a very uncontaminated league, if you will, to produce a product that is inspirational to our country."
Chase Field, with artificial turf and a retractable roof, could be the site of daily tripleheaders, Boras said.
MLB and the union reached a deal March 26 to advance $170 million in salary to players for the first 60 days of the season. As part of the deal, players would get only prorated portions of their salaries if the regular season is cut from its usual 162 games and would receive no additional salary if the season is scrapped.
Both sides have agreed to attempt to play as full a season as is possible, and this plan would enable the season to start while waiting for health and government officials to determine whether it is safe to resume play in regular-season ballparks, with the travel that would entail.
---
AP Sports Writer Stephen Hawkins contributed to this report.
Iowa High School Athletic Association Releases Updated Spring Sports Schedule On Monday
The Iowa High School Athletic Association officially announced new dates for a shortened spring sports season earlier today. The IHSAA announced that on Friday, May 1, 2020, practices to either begin or resume for track & field, golf, soccer, and tennis. Track, tennis and golf would begin regular-season competition on Monday, May 4, while soccer would begin competition on Friday, May 8.
The revised schedule will push all state tournaments for the spring season into the June. Postseason competition would begin with the boys tennis individual (singles and doubles) district tournaments on Wednesday, May 20.
Boys team tennis district tournament play will begin on Saturday, May 23, and continue the following Saturday, May 30. State singles and doubles boys tennis will be held June 5-6 while the boys state team tennis tournament will be held on Tuesday, June 9.
Girls regional team tennis competition will begin on Saturday, May 23 and will continue on Saturday, May 30. Both the opening state team tennis tournament matches and any remaining regional finals will be played on Monday, June 1. State team tennis will continue on Tuesday, June 2 and conclude on Saturday, June 13.
Girls regional singles and doubles tennis tournaments will now be held two days after Memorial Day on Wednesday, May 27. The Class 1A and 2A girls state singles and doubles tennis tournaments, which could feature Fairfield junior Yana Gaskill's bid for a second straight 1A state singles title, will be held on June 10-11.
Girls golf will have opening regional tournaments on Tuesday, May 26 with the regional championships in Classes 1A-4A all taking place on Monday, June 1. The four girls state golf tournaments will be held over two straight days the following week, June 8-9.
Before the boys can tee up district tournaments on Friday, May 29, track and field athletes will finally get the chance to compete in state qualifying meets across the state on Thursday, May 28, allowing for 24 days of outdoor track and field regular-season meets to be held. The state track and field meet, where the Ottumwa girls track team is hoping to contend for a team trophy in Class 4A, are now scheduled to be held June 4-6 at Drake Stadium in Des Moines.
One day after the state-qualifying track meets in Classes 1A-4A, the opening postseason rounds of boys golf will be held for Class 1A, 2A and 3A on Friday, May 29. District championship tournaments will be held on Friday, June 5 with the three boys state golf tournaments taking place June 11-12.
Boys and girls soccer will now continue until the final day of the girls state soccer tournament on Saturday, June 20. Boys district tournament soccer dates are June 8, 10 and 12 with the boys state soccer tournament for Classes 1A-3A being held June 15, 17 and 19.
The girls regional soccer dates are June 4, 5, 9 and 11. The girls state soccer tournament is scheduled to be held June 16, 18 and 20.
Postseason host sites and state championship event venues are currently set as previously announced. Any changes or updates will be announced as they become available. Golf postseason dates may vary due to course availability.
The IHSAA has not set a maximum or minimum number for competition dates within this adjusted schedule. Previously stated competition limits apply for each sport. Member schools may determine their own regular seasons which are best suited to their school schedules and activities.
Events for Iowa's high school unified activities partners will remain prohibited through Thursday, April 30, 2020. Spring activities have been halted since March 16, when schools across the state initially closed in response to the spread of novel coronavirus (COVID-19).
The IHSAA are still working to offer spring and summer sports opportunities. There will be an overlapping of regular and postseason events for spring sports, should those seasons resume, and summer sports with the high school baseball and softball seasons still scheduled to begin practices on May 4 and begin competition as early as Tuesday, May 26, 2020.
Live, From a Connecticut Backyard, It's … a Sport!
Televised live sports have all but vanished in the age of coronavirus, but an unlikely exception emerged recently on ESPN3: the "2020 Platform Tennis World Championships."
The name was rather grandiose for a makeshift tournament streamed live from a backyard court in Wilton, Conn. It featured four little-known men playing a little-known game at a private home with no prize money at stake.
"For platform tennis, it's the biggest stage we've ever been on so far," said Mark Parsons, who ended up winning the title but not taking home the trophy.
"The guy who brought the trophy was the only guy allowed to touch it," Parsons said. "We were doing our best to keep the social distancing."
With professional and collegiate sports shut down just about worldwide, there is a narrow window for niche events to seek some light during the pandemic.
Burke Magnus, the executive vice president for programming acquisitions and scheduling for ESPN, said in a statement that one of the network's goals was to entertain fans through "themed and stunt event programming that will provide a diversion at a time that there are virtually no other live sports to watch."
Platform tennis — played outdoors, even in subzero temperatures, on a scaled-down tennis court inside fences that feel more like a cage — was a new entry in a strange and sensitive era for live competitions. Team and contact sports do not work well now. N.B.A. players, NASCAR drivers and cyclists are competing in video games, and ESPN recently re-aired "The Ocho," its annual outlet for zany competitions like stone skipping and ax throwing.
There will be more attempts to stage live sporting events. The Big 3, a three-on-three basketball league featuring some former N.B.A. players, has ambitions to quarantine certain players in a house and broadcast their lives and games. An exhibition rematch between the golfers Tiger Woods and Phil Mickelson is being discussed, as are tennis exhibitions from private residences.
Magnus said on Monday that ESPN was also positioning itself to be ready if international sports leagues resumed play ahead of those in the United States.
"There is clearly a thirst for live games," he said. "It may provide a unique opportunity to introduce fans to events or leagues that may not have had as much exposure here."
Platform tennis has had hardly any mainstream exposure, but last week it was the only live event on ESPN3 that was played on a physical court or a field.
Bob Considine, the owner of paddlepro.com, helped organize the platform tennis tournament on short notice, and he said he had worried about being respectful of the moment and the fears of fans.
"We didn't want to be going against society," he said. "I was so nervous the week going into it, thinking, 'Am I doing the right thing? Am I doing the right thing?'"
Despite being fenced in, the competitors did their best to maintain distance. To avoid coming within six feet of each other, they played singles instead of doubles — the more customary platform tennis game.
Each competitor wore a glove on his nonserving hand and played service games with his own ball. When it came time to change ends, they crossed on opposite sides of the net and never tossed a ball to the other player, instead hitting it with their paddles.
Off the court, they sat far apart, and no spectators were allowed. The only people in attendance other than the players were the four members of a skeleton television crew. Instead of bringing in a production truck, they used the house's internet connection, which made for a spotty stream. They also had to improvise after a camera affixed to one of the fences came loose.
Considine climbed a ladder and held the camera himself during the final.
"I was up there for a good hour," Considine said. "A little scary to tell you the truth — 15 feet up there, with those guys slamming into the fence."
To keep the number of people involved down even further, players doubled as television commentators, joining the play-by-play man Brad Easterbrook to discuss the next match after finishing their own.
Post-match interviews were conducted at a considerable distance.
"I would do anything in the world to trade this situation for getting back to normal," said Harry Cicma, whose independent production company staged the event and made the deal with ESPN. "But people were contacting me and were really sad and depressed they didn't have live sports, and I was just thinking of ways to do it in a safe way and about the sports that would work. Football, baseball or basketball, you need a public venue. But platform tennis you can do at someone's house in a safe manner, one on one, and we happen to have the best players in the world in the New York area."
According to Considine, there are only "100,000 to 150,000" platform tennis players in the world, nearly all of them in the United States. The hub is in suburban New York; the game was invented in Scarsdale in 1928. The world's No. 1 player, Johan du Randt, drove down for the tournament from his home in Boston.
Parsons, a 40-year-old Canadian, is ranked No. 3 and said he lived "less than a seven-minute drive" from where the event was staged. Like many top platform tennis players, he once played professional tennis. He was a member of Canada's Davis Cup team.
The tournament was without several other top players, including Jared Palmer, a 48-year-old American who was ranked No. 1 in tennis doubles and won the 2001 Wimbledon title with Donald Johnson.
The only person involved with the tournament who seemed comfortable with the "world championship" label was Cicma.
"I cringe at that term," Considine said.
Though the competitors had played little for the previous three weeks and rarely play singles, Parsons shook off the rust to beat du Randt, his former doubles partner, in the final.
When it was over and they met at the net, there was no handshake.
Instead, they touched paddles and then quickly retreated.
"It was strange not to reach over and give Johan a high-five or a hug," Parsons said. "We played together so long, but hopefully we can get back soon to the way things were."