Lucy Boynton and Rami Malek Show Rare PDA at a Madison Square Garden Hockey Game
Frazer HarrisonGetty Images
Lucy Boynton and Rami Malek have been together for more than two years. They met while filming Bohemian Rhapsody, for which Malek won an Oscar in 2019. When they started appearing on red carpets together in 2018, it became clear that these two might just be an item. They tend to be a pretty private couple, but they do seem to enjoy cuddling up while watching athletes play sports.
On Saturday, the couple attended the San Jose Sharks vs New York Rangers, where they held hands, smiled at each other, and seemed to have an overall excellent date. Boynton wore a floral top, her hair up and pulled back with a thick black headband, and gold hoop earrings for the casual outing, while Malek went with a black bomber jacket, a red plaid scarf, and a button-up shirt. The Rangers' colors are white, blue, and red, so maybe these two were trying to sartorially root for the team in a subtle manner.
The couple really does like going on dates to sports games: In November of last year, they went to a Los Angeles Lakers game at the Staples Center in L.A. But they also make formal events into date night; they attended the Golden Globes in January, where they snuggled a bit on the red carpet.
In an interview with New York magazine's the Cut last August, Boynton shared how she felt when her boyfriend won his Best Actor.
"Him winning for his performance was like winning for the tip of the iceberg of everything he had done," Boynton told the publication. "You kind of forget that there are hundreds of other people in the room."
The Oscars, a hockey game at Madison Square Garden—that same magical feeling can happen anywhere, right?
Shopify announces optimistic Q1, suspends 2020 outlook
Ottawa-based e-commerce company Shopify Inc. said on Wednesday that it is suspending its previous financial expectations provided for full-year 2020, as the Covid-19 crisis continues.
Nonetheless, it expects to report first-quarter earnings on May 6, 2020 that are within or ahead of its previously announced guidance. 
"Shopify ended 2019 with momentum that continued into January and February of 2020. This will enable us to report revenue and adjusted operating income for the first quarter within or ahead of the range of expectations provided on February 12, 2020, despite the global economic disruption that emerged in March triggered by Covid-19," the company said in a news statement. 
Shopify is currently "analyzing the data across its platform for insights into how COVID-19 is affecting merchants' operations in order to provide the most effective support." 
So far, the company said that early signs indicate that brick-and-mortar businesses are pivoting to online as consumer demand shifts. It also noticed an increase in the use of promotions by merchants to boost sales, as well as industry-specific sales trends. 
In interim, the company is supporting merchants with initiatives like adding gift cards to all plans for all merchants, offering local in-store/curbside pickup and delivery for POS merchants, extending its 90-day free trial to all new standard plan signups and more. 
It also announced that it will be making US$200 million in loans available to merchants through the company's Shopify Capital program. 
Shopify noted that in March, it terminated thousands of merchants charging unfair prices or making false claims about Covid-19-related items such as face masks or hand sanitizers.
Last year, Shopify's total revenues hit $1.578 billion. Subscription solutions revenue grew 38 percent to $642.2 million, while merchant solutions revenue grew 54 percent to $935.9 million.
Despite the impressive progress, Shopify posted an annual net loss of $124.8 million, or $1.10 per share, compared with $64.6 million, or $0.61 per share, for 2018.
Copyright © 2020 FashionNetwork.com All rights reserved.
Fashion Trends We're Wearing During Social-Distancing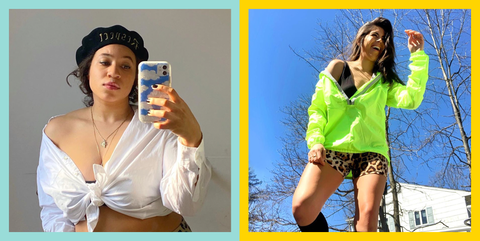 Instagram/Katie Buckleitner
Things feel uncertain. Coronavirus is here and it is impacting everyone. We're all supposed to stay home unless we're doing something essential, which means, for the most part, we're comforting ourselves by wearing sweatpants, pajamas, and activewear. To distract from the current reality, though, it can also be nice to just dress up in some fancier stuff or even in some clothes and accessories you've had in your closet and always wanted to try but you didn't for one reason or another.
That's what yours truly and a few other Cosmo colleagues did over the past week. It felt great. Ten outta ten would recommend!
If you're interested, here are all the trends we used to divert ourselves:
Glasses Chains
I've had these tortoise glasses chains on a hook on my mirror for, like, two months. FYI, I'm now hooked on these and currently looking for more.
Head-to-Toe Neon
Lauren living her brightest life!
All the Hats
This beret!! Also yaaas to that off-the-shoulder styling, Khadija!
Sporty Spice
Mia living the vintage windbreaker dream out there.
Pattern Clashing
And. A. Tea. Kettle. Handbag!!!!!!!
Bike Shorts 'n' Blazers
Madeleine + this windowsill = the fashion shoot we all need in our lives.
Socks With Heels
Gonna need a whole lot of fun sheer socks after this. Thanks, Sarah.
Rachel Bloom thanks medical workers as she brings daughter home from NICU
Rachel Bloom announced the birth of her baby girl with a social media post on Wednesday, where she called it the "most emotionally intense week" of her life.
The Crazy Ex-Girlfriend star took to Instagram to share the news with her followers, while also addressing the whirlwind that she and her husband, Dan Gregor, faced as they welcomed their first child during the coronavirus pandemic. In the post, Bloom shared that their daughter, whose name hasn't been announced, was in the Neonatal Intensive Care Unit (NICU) before recently returning home.
"As the lovely doctors and nurses helped my daughter get some fluid out of her lungs, we watched the maternity ward around us change hourly to prepare for the upcoming COVID storm," she wrote. The whole family is now home safe and I am just so grateful to all of our medical workers."
The actress and singer also seemingly addressed the hospitalization of her friend and colleague, Adam Schlesinger, who was at the time very ill with the coronavirus. Late on Wednesday afternoon, it was announced that the 52-year-old Schlesinger had died of coronavirus complications.
"Having a baby in the NICU during a pandemic while a dear friend was in the hospital 3,000 miles away made this by far the most emotionally intense week of mine and Gregor's lives," Bloom wrote. "From those in our NICUs to those directly helping COVID patients like Adam, they are sacrificing so much to fight on the front lines of this war. Thank you thank you thank you."
Bloom, who collaborated with the Fountains of Wayne rocker on the music for Crazy Ex-Girlfriend, had reflected on her friend's health as she watched nurses take diligent care of other patients impacted by the pandemic at a hospital thousands of miles away.
Fellow musician Bellsaint commented on the photo, writing, "That is a lot, sending lots of love and peace during this uncertain time for everyone. Congratulations on bringing a new human into the world!"
Bloom wrote that she will now be taking this unique time at home to get to know her new baby girl.
Updated, 6:30 p.m.: (The piece has been updated to reflect Schlesinger's death.)
For the latest coronavirus news and updates, follow along at https://news.yahoo.com/coronavirus. According to experts, people over 60 and those who are immunocompromised continue to be the most at risk. If you have questions, please reference the CDC and WHO's resource guides. 
Read more on Yahoo Entertainment:
Want daily pop culture news delivered to your inbox? Sign up here for Yahoo Entertainment & Lifestyle's newsletter.