MIT CSAIL's radars map hidden features to help driverless cars navigate snowy terrain
Inclement weather — particularly rain and snow — threaten to stop autonomous vehicles in their tracks. That's because precipitation covers cameras critical to the cars' self-awareness and tricks sensors into perceiving obstacles that aren't there. Plus, bad weather has a tendency to obscure road signage and structures that normally serve as navigational landmarks.
Fortunately, researchers at MIT's Computer Science and Artificial Intelligence Laboratory and Lincoln Laboratory are on the case. In a paper that will be published in the journal IEEE Robotics and Automation Letters later this month and presented in May at the International Conference on Robotics and Automation (ICRA), they describe a system that uses ground-penetrating radar (GPR) to send very high frequency (VHF) electromagnetic pulses underground to measure an area's combination of pipes, roots, rocks, dirt, and other features. The GPR builds a basemap that an onboard computer correlates, contributing to a three-dimensional GPS-tagged subterranean database.
According to paper lead author and CSAIL Ph.D. student Teddy Ort, it's the first time developers of self-driving systems have employed ground-penetrating radar, which has previously been used in fields like construction planning, landmine detection, and lunar exploration. "If you or I grabbed a shovel and dug it into the ground, all we're going to see is a bunch of dirt," he said. "But [localizing ground-penetrating radar] can quantify the specific elements there and compare that to the map it's already created so that it knows exactly where it is, without needing cameras or lasers."
The researchers found that on a closed country road in snowy conditions the navigation system's average margin of error was about an inch in snowy conditions compared to in clear weather. The GPR had a bit more trouble with rainy conditions — the precipitation caused more water to soak into the ground, leading to a disparity between the original readings and the current conditions —  but it was off by only an average of 5.5 inches. More impressively, over a six-month testing period, the team never had to take the wheel.
Ort and coauthors note that the approach wouldn't work entirely on its own since it can't detect things aboveground. Also, the GPR data sets are currently difficult to stitch together because of aboveground factors like multi-lane roads and intersections, and the current hardware is too bulky and wide to fit into most commercial vehicles.
But they say that the GPR could easily be extended to highways and other high-speed areas and that its ability to localize in bad weather means it could possibly be coupled with existing approaches, like cameras and lidar. Another advantage? The system's underground maps tend to hold up better over time than maps created using vision or lidar, since the features of an aboveground map are much more likely to change. As an added bonus, they take up roughly 20% less space than the traditional 2D sensor maps that many companies use for their cars.
MIT spinout WaveSense, which came out of stealth in August 2018, is already working to commercialize the system. It's using a version that Lincoln Labs researchers demonstrated could guide an SUV centimeters within a lane on a road freshly coated with snow. This system was first developed for military vehicles in regions with poor or nonexistent road markings.
"Our work demonstrates that this approach is actually a practical way to help self-driving cars navigate poor weather without actually having to be able to 'see' in the traditional sense using laser scanners or cameras," said senior author and MIT professor Daniela Rus.
Coronavirus: Tech firm Bloom Energy fixes broken US ventilators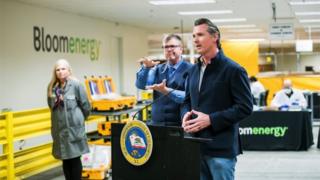 A Californian company that usually makes green-energy fuel cells is due to deliver 170 repaired ventilators to Los Angeles later on Monday after transforming its manufacturing process.
An engineer at Bloom Energy downloaded the service manual and taught himself how to dismantle and rebuild them in a day, the Los Angeles Times reported.
They had been in storage since the H5N1 bird flu outbreak of the mid-2000s.
Bloom says it is now working to find other stockpiles of disused machines.
On Saturday, as California Governor Gavin Newsom visited the manufacturing plant, he said: "We got a car and a truck and had [them] brought here to this facility at 08:00 this morning.
"And Monday, they'll have those ventilators back into Los Angeles all fixed. That's the spirit of California."
Mr Newsom said the the original manufacturers had initially told him it would take a month to fix 200 ventilators, which help patients breathe if they are having difficulties due to Covid-19 or other diseases.
He said he told Bloom: "We challenge you to do more and do better."
What do I need to know about the coronavirus?
And on 22 March, the company's chief executive, KR Sridhar, sent the governor a photo of 24 finished ventilators ready to be certified for use.
Mr Sridhar told CNBC: "We think we can do hundreds of ventilators – close to 1,000 ventilators – a week of refurbishment.
"This is the fastest way – we can take existing ventilators that are out there, get them working, get them back to the hospitals."
What are ventilators and why are they important?
Mercedes F1 to make breathing aid
The strategy contrasts with that of the UK, which is seeking to make thousands of new machines in partnership with manufacturing companies.
The UK has about 8,000 ventilators available and has placed orders for the same number again from existing manufacturers
Dyson has also received an order for 10,000 units of a new design – if it passes regulatory hurdles.
But manufacturers have said they will not be able to meet demand if coronavirus infections peak in the coming weeks.
Facebook Aims $100 Million at Media Hit by the Coronavirus
Facebook announced on Monday that it would dole out $25 million in grants to local news outlets and spend $75 million in a marketing drive aimed at news organizations internationally in response to the coronavirus-prompted economic downturn, which has caused advertising to plummet and has threatened media industry revenues.
Despite huge interest in news that has led to traffic surges and a rise in digital subscription sign-ups, the media industry has seen cutbacks as advertising has dropped sharply. Some alt-weeklies have laid off as many as three-quarters of their employees. BuzzFeed and American Media Inc. have instituted pay cuts. In Louisiana, The Advocate and The Times-Picayune have furloughed some staff and put the rest on four-day workweeks.
The money announced Monday will come on top of $300 million that Facebook, one of the world's largest tech platforms and a critical digital news gatekeeper, pledged last year to invest in local news by the end of 2021.
Campbell Brown, Facebook's vice president for global news partnerships, said in a post, "If people needed more proof that local journalism is a vital public service, they're getting it now."
In an interview, Ms. Brown said Facebook felt obliged to help local news organizations weather the downturn. The outbreak has punished many of them financially while they perform risky journalism on an essential topic. Many of them have posted their coverage outside their paywalls.
At the same time, increased traffic and subscriptions have not made up for advertising shortfalls.
"We have begun to make progress," she said, "subscriptions have begun to increase, but there's still a gap there, and if we can fill that gap, then we have a responsibility to do it."
Part of a $1 million Facebook grant announced two weeks ago helped The Post and Courier newspaper of South Carolina cover remote work costs for its journalists and expand its coverage across the state, Facebook said.
News outlets have long seen Facebook as an adversary. The social media giant and Google, the search company, dominate digital ad revenue, squeezing the bottom lines of traditional media.
Moreover, Facebook is built on users' sharing enticing content, including news articles. That gave the company an incredible amount of leverage over publishers, as a few tweaks to its algorithm could, like turning a spigot, direct traffic away from or to news articles. In recent years, the central News Feed pivoted away from an emphasis on hard news. ("News Feed isn't about news. It's still mostly about friends and family," Ms. Brown said.)
Amazing Technology|Experiment: Fish Vs Coca Cola Vs Mentos Vs Fanta Vs Sprite Catch Fishes From Hole


Amazing Technology|Experiment: Fish Vs Coca Cola Vs Mentos Vs Fanta Vs Sprite Catch Fishes From Hole

source