Primark boosts UK market share, says Europe and US look strong
A trading update from Primark owner Associated British Foods on Monday showed that the value fashion retailer is continuing to perform well, even if like-for-like sales are merely flat.
Ahead of its next results statement, for the 24 weeks to February 29, ABF said Primark sales are expected to be up 4.2% at constant currency and 2.5% ahead at actual exchange rates, "driven by increased retail selling space and level like-for-like sales". 
But with an expected decline in margin, operating profit should be "marginally" down on last year at constant currency and on a lease-adjusted basis. That said, on a reported basis, operating profit will be ahead of last year.
Advertisements

fiber_manual_record


fiber_manual_record


fiber_manual_record


fiber_manual_record

In the core UK market, the retailer said it "delivered a further increase in our share of the total clothing, footwear and accessories market". And sales there should be up 3% on the back of "a strong contribution from new selling space, partially offset by a 1.3% decline in like-for-like sales". It said trading was "particularly good over November and December but weakened in January and February against very strong comparatives in the prior year".
Mainland Europe did better though. Sales in the eurozone are expected to be 5.3% ahead at constant currency with particularly strong sales growth in France, Belgium and Italy. It said is new store in Milan "traded ahead of expectation and our store in Ljubljana, Slovenia continued to trade strongly".
Like-for-like sales for the eurozone were up 0.5% due to "excellent like-for-like sales in France and Italy and, at this early stage, a notable improvement in Germany which was delivered through a series of operational changes made by the new management team".
And of course, when the company issues trading statements or results reports, everyone's always keen to hear how it's doing in the US, which got off to something of a slow start several years ago. 
The company said that its business there "continued to perform strongly, delivering like-for-like sales growth, with particularly strong trading at the store in Brooklyn. Together with the contribution from planned store openings, we expect a much-improved operating result for the year".
But as with all retailers, there are other issues to take into account than just sales performance. ABF pointed out that the average exchange rate for the British pound against its major trading currencies (other than the US dollar) was stronger in H1 than a year earlier and there will be a deficit on currency translation of around £6m. And in H2, with a higher contribution of overseas profits, that deficit will be bigger if current exchange rates continue.
The currency issues mean the margin was down in H1 as purchases this time were at a much stronger US dollar exchange rate, although "the effect was substantially mitigated by both reduced markdowns and reductions in the costs of goods, primarily lower materials prices".
And then there's the coronavirus, Covid 19, to take into account, although in the case of its superstar retail operations, the problem doesn't seem to be large for ABF at present. Primark sources "a broad assortment" of its product from China and typically builds inventories in advance of Chinese New Year. That means it's "well stocked with cover for several months and [we] do not expect any short-term impact," it said. It added that it's "working closely with our suppliers in China to assess the impact on their factories and supply chains and their ability to fulfil our current orders. If delays to factory production are prolonged, the risk of supply shortages on some lines increases. We are assessing a step-up in production from existing suppliers in other regions".
Aside from concerns over margins and the supply chain, the company continued to expand its retail selling space in H1. This grew by 0.2m sq ft since its previous financial year-end and as of the end of this month, 375 stores will be trading from 15.8m sq ft, compared to 15.1m sq ft a year ago. 
Three new stores were opened in the period including Seville Lagoh in Spain, Kiel in Germany, and that Milan location in Italy. Selling space was reduced in two stores in Germany and a small store in Rathfarnham, Ireland was closed.
The programme will continue in 2020 and the firm should open 0.9m sq ft of new selling space in this financial year overall. A strong opening programme is planned for the next quarter, with a net 0.5m sq ft added. The new stores will open in in the UK, US, France (with four new stores), Italy, Belgium, Spain, Germany and Poland.
And as well as that Polish store (in Warsaw), there's more activity going on in Eastern Europe with the company having signed leases for further openings in Poland, Slovakia and the Czech Republic.
Copyright © 2020 FashionNetwork.com All rights reserved.
These Brands Are Giving Away Product to Medical Professionals at the Front Lines of the Pandemic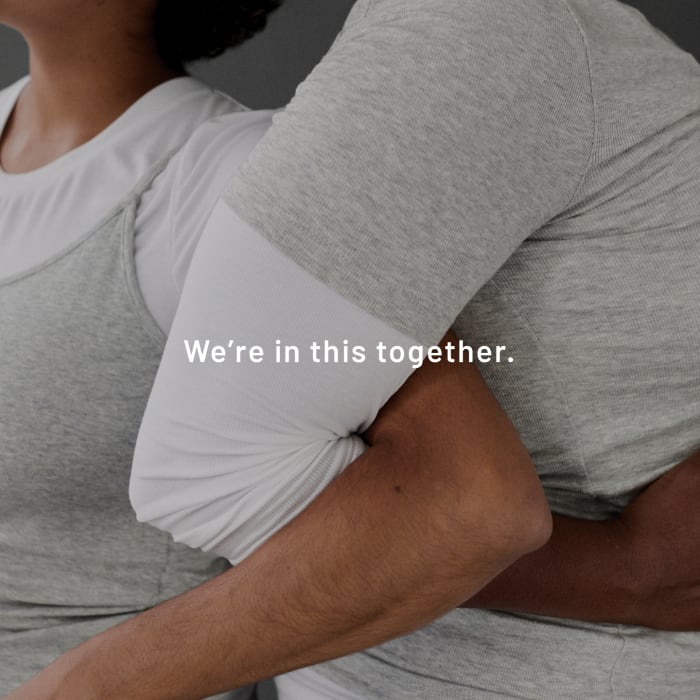 Fashion and beauty brands are mobilizing to respond to the Covid-19 pandemic in different ways. Some are donating money to different organizations and efforts to fight the coronavirus. Others are pivoting production to manufacture essential supplies for healthcare workers, like face masks, protective gowns and hand sanitizer. As the disease continues to spread, many companies have announced they'd be giving away products to medical professionals and others working to provide aid to those affected, as a token of appreciation for their work — ranging from shoes they can wear on long shifts to wedding gowns for upcoming nuptials. 
Aerosoles is donating some of its most comfortable sneaker styles to healthcare workers who e-mail sharethelove@aerosoles.com, while supplies last.
L'Agence is handing out free denim — $500,000 worth — to qualifying U.S.-based healthcare workers. Those eligible can e-mail givingback@lagence.com with their name, job title and photo of their credentials to request a pair of jeans, while supplies last.
Allbirds is giving away its signature Wool Runners to people working in healthcare who e-mail together@allbirds.com, while supplies lasted. The demand was so great when the offer was first announced, the brand introduced a "buy-one-give-one" model and an option to split the cost of a pair to be donated to a healthcare worker to U.S. customers.  
The Body Shop has delivered goodie bags filled with products to hospitals in the U.K. Meanwhile, in North America, the retailer has handed out thousands of cleansing products to shelters and senior citizens. 
Crocs is also pitching in, offering healthcare professionals a free pair of shoes, with free shipping included. The brand created a page on its website where medical workers can queue up virtually to receive theirs, until a daily merchandise limit is reached. 
As a token of appreciation for their work, Glow Recipe opened up applications to medical professionals to receive a free full-size Blueberry Bounce Gentle Cleanser and a month's supply of Banana Soufflé Moisture Cream. Due to high demand, the brand is no longer accepting submissions.
Every week, swimwear label Hermoza is highlighting three "Modern Day Heroes" nominated by members of its community on its Instagram feed and offering them a free item from its collection. These can be people who work in healthcare, people who volunteer at food banks, people who drive delivery trucks — people working to provide aid to those affected by Covid-19. Submissions can be sent to office@hermozaswim.com.
Keen gave 100,000 pairs of shoes to both workers on the front lines of the pandemic and to people at home.  
Related Stories:
Can You Still Donate and Sell Clothes During the Coronavirus Pandemic?
Pyer Moss Organizes Medical Supplies Drive and Sets Aside $50K in Relief for Minority-Owned Businesses
How Bad Is a Pandemic for Small Retailers — and Can They Bounce Back?
Michigan-based outdoor gear company Merrell offered support in its home state by sending 1,200 pairs shoes and boots to Spectrum Health and Mercy Health hospitals, the Grand Rapids Police Department and the city's Fire Department. 
Oofos, which specializes in recovery footwear, donated over 1,000 pairs of its shoes to nurses and medical professionals at Massachusetts General Hospital in Boston, Swedish Hospital in Chicago, Palm Beach Gardens Medical Center in Florida, Hackensack Meridian Health at Pascack Valley Medical Center in New Jersey, Wellstar Atlanta Medical Center in Atlanta, Prebys Cardiovascular Institute at Scripps Memorial Hospital La Jolla and Palomar Medical Center Poway in California. Healthcare workers can also redeem "special offers" through RealID.me.  
Pronovias was one of the first brands to announce it would gift product to healthcare professionals working to fight the spread of the coronavirus, offering free wedding gowns to engaged nurses and doctors in China at the beginning of the year, WWD reported. The Barcelona-based bridal brand extended the offer globally and to other hospital employees — like janitors and cafeteria staff — in March. Those eligible can pick a style from Pronovias's Heroes Collection at its flagship stores in Barcelona, Madrid, Sevilla, Rome, Milan, Paris, Lyon, Marseille, Lisbon, London, New York, Los Angeles, Miami, Houston, as well as in cities in Mexico, until August 31, 2020. 
Through April 3, Sarah Flint is running a campaign called #StandInSupport, where people can nominate someone working at the front lines of the Covid-19 pandemic in the U.S. — whether they're doctors, nurses, grocery workers, janitors, police officers or another essential worker — to receive a free pair of shoes from its archive, while supplies last.
In response to stories it was receiving about medical professionals using its products to relieve dryness and irritation from protective gear and constant hand-washing, Summer Fridays sent codes for a free full-size Jet Lag Mask to healthcare workers on the front lines who e-mailed thankyou@summerfridays.com and met certain criteria while supplies lasted.
Universal Standard launched a "Free Foundation Initiative," where it donates a piece of its Foundation collection — which consists of basics like T-shirts and bodysuits — to doctors, nurses and medical workers in the U.S., while supplies last. Those eligible can e-mail a photo of their credentials to us@universalstandard.net.
Want more Fashionista? Sign up for our daily newsletter and get us directly in your inbox.
Spanish designer dresses last brides as coronavirus halts weddings
Wearing a surgical mask and latex gloves, Spanish wedding dress designer Inma Garcia cuts lengths of ivory satin and frothy net in her Barcelona workshop to make a bridal gown for a Mexican client.
She is finishing the dress herself because her employees are in quarantine and her factory has been shut since March 16 after two workers tested positive for the coronavirus.
Spain, one of the countries worst-hit by the pandemic, is the second-biggest exporter of wedding dresses globally after China. A large proportion of the industry is centred in the Mediterranean city of Barcelona.
"We are trying to serve the brides who have not put off their weddings," Garcia says, standing in a room with stacked bales of lace and sequin-embellished fabric. "We've come to make this dress to make sure the bride can happily get married."
Garcia's business has been hit on several fronts – weddings have been postponed, trade fairs where she makes most of her sales cancelled and the supply chains for the fine Italian fabrics she uses have ground to a halt.
"All our fabric orders are on hold. It's not just that we don't have workers, we don't have any raw material with which to work," she says. No new dress orders are coming in.
The sudden freeze on her business is emblematic of the paralysis sweeping Spain's economy, where small companies account for nearly three-quarters of the labour market.
The government, like many around the world, has announced a multi-billion-euro package of measures to help the economy weather the outbreak like offering state-backed loans to businesses and paying benefits to furloughed employees.
But small businesses across the country are grappling with an unprecedented scale of disruption.
The Valmont Barcelona Bridal Fashion Week is one of the biggest events in the wedding industry calendar, bringing hundreds of buyers and brands from around the world to buy and sell. But the April date has been postponed to June.
"That's where we make most of our sales for the whole year," says Garcia, standing next to a rack of plastic-wrapped white gowns, trimmed with diamante and lace.
"We are keeping our expectations low on whether it will take place in June because countries are totally shut down."
© Thomson Reuters 2020 All rights reserved.
Best Bra and Cardigan Sets at Zara
Lots of our favorite looks only feel right when we can wear them out for everyone to see, but nonetheless, I've devoted a small portion of my wardrobe to items I've never planned on wearing out of the house. (I think we're calling them inside clothes.) There's a distinct pleasure in dressing only to suit the microclimate of your home, where one doesn't need to think about outerwear, or shoes, or, well, anything too functional. So, if Katie Holmes's internet-famous bralette-and-cardigan moment never struck you as practical clothing for your regular life, maybe it's just the thing to perk up your #StayHome look.
Since Katie first debuted the look, the trend has spilled into the market, giving us iterations to test-drive in our own homes. I've worn the look with jeans, but will admit that throwing it on as an alternative to my typical loungewear (read: sweatshirt and sweatpants) has provided the mood-boosting effects I was seeking in getting dressed, without committing to full-on clothes. It's the happy compromise, if you will. It's trend-forward, sure, but it's cozy and comfy and looks especially cute styled with knit shorts and socks for hanging on the couch, a stay-at-home date night, or day spent working from bed. Plus, when it's time to meet your pals in person again, you might just be ready to take the trend to the street, and be glad you have a cute cardigan — instead of a lineup of worn sweatshirts — on hand.