Rema Shares New Song "Beamer (Bad Boys)": Listen
Nigerian singer Rema has collaborated with Jamaican producer Rvssian on a new single, "Beamer (Bad Boys)." In an interview with Zane Lowe on Apple Music's Beats 1, Rema said of collaborating, "Every single artist, you know, has their roles to play in the army of the new generation. Me, I'm the bad commando."
Rema continued, "My role is to actually, you know, mix vibes, and I want to share the, you know, vulnerability of Afrobeats through mixing cultures together." Find Rema's interview and new track below.
Rema released three EPs in 2019: Rema, Freestyle, and Bad Commando. Read Pitchfork's Rising feature "Rema Is Leading the Next Generation of Nigerian Pop."
Rare and brilliant insults (25 photos)
Keeping Up With All Celeb Livestreams: What to Watch March 30-April 5
There's a star-studded lineup of virtual events happening this week that you don't want to miss, including interviews with Jennifer Aniston and Kim Kardashian!
Check out our complete list of events going on from today, Monday, March 30, to Sunday, April 5:
Kelly Ripa and Ryan Seacrest will welcome a number of guests for virtual interviews this week! Live with Kelly and Ryan, which airs at 9 a.m. ET and PT, will welcome Issa Rae, Leslie Odom Jr., Ryan Trygstad on Monday. Then on Tuesday, March 31, Josh Radnor and Colton Underwood will join Ryan and Kelly. On April 1, Uzo Aduba, Bethenny Frankel and Max are guests on the show, while Kim Raver joins Kelly and Ryan on Thursday, April 2.
The View will welcome Jonathan Karl on Monday, March 30, and Kim Kardashian on Tuesday, March 31. The show airs at 11 a.m. ET/10 a.m. PT.
The Talk, which airs at 2 p.m. EST/1 p.m. PT, will welcome Wayne Brady (3/30), Sean Hayes (3/31), Terry Crews (4/1), Jaime Camil and Pauley Perrette (4/2) and Dr. Oz and Sebastian Maniscalco (4/3).
Miley Cyrus' Bright Minded Instagram Live (11:30 a.m. PT): Guests include Alicia Keys, Millie Bobby Brown, Zion Clark and Selma Blair.
Conan (Every Weeknight at 11 p.m.): Adam Sandler (3/30), Sophie Turner (3/31), Jesse Eisenberg (4/1) and Sean Hayes (4/2).
Jimmy Kimmel Live (Every Weeknight at midnight): Monday, 3/30: Tracy Morgan, Lizzo. Tuesday, 3/31: Samuel L. Jackson, Jeff Tweedy & family. Wednesday 4/1: Eric Stonestreet,Jesse Tyler Ferguson, Jessie Reyez. Thursday, 4/2: Jennifer Aniston, Grouplove.
The Tonight Show Starring Jimmy Fallon (Every Weeknight, 11:35 p.m.): Monday, 3/30: Kim Kardashian West, Jon Bon Jovi, OneRepublic, Tuesday, 3/31: Demi Lovato, Jonathan Van Ness, Wednesday, 4/1: Adam Sandler, Russell Wilson, Ciara, Marcus Mumford. Thursday, 4/2: Hot Country Knights. Friday, 4/3: Miley Cyrus, Lewis Capaldi.
Late Night With Seth Meyers (Every Weeknight at 12:30 a.m.): Seth will be joined by Sen. Bernie Sanders on Monday, March 30.
A Little Late with Lilly Singh (Every Weeknight at 1:30 a.m.): Monday, 3/30: Tyra Banks, Tuesday, 3/31: Natalya Neidhart, Paige & Alexa Bliss, Wednesday, 4/1: Terry Crews, Thursday, 4/2: Aisha Tyler, Rob Huebel.
Pop of the Morning: Ramona Singer will join the E!'s Pop of the Morning hosts on Instagram Live Monday, 3/30 at 11 a.m. PT/2 p.m. ET. Then on Tuesday, 3/31 at 1 p.m. PT/4 p.m. ET Sandra Lee aka Dr. Pimple Popper will be on! On Wednesday, 4/1 at 1 p.m. PT/4 p.m. ET, Justine Marjan will join Pop of The Morning as a guest. And on Thursday, 4/2 at 1 p.m. PT/4 p.m. ET, Joseph Carrillo will join the Pop of the Morning squad.
Nightly Pop: On Monday, 3/30 at 1 p.m. PT/4 p.m. ET, Jessica Garcia will join the Nightly Pop team. And on Thursday, 4/2, at 10:30 a.m. PT and 1:30 a.m. ET, reality star Ed Brown will be a guest.
Daily Pop will also have a number of celeb interviews this week! On Monday, 3/30, 9 a.m. PT/12 p.m. ET. Chef Cat Cora joins the Daily Pop squad. At 12 p.m. PT/3 p.m. ET, Daily Pop welcomes Wayne Brady. Daily Pop also welcomes Jonathan Van Ness (3/31, 9 a.m. PT/12 p.m. ET), Candace Cameron Bure (3/31,10:30am PT), Ty Burrell (3/31, 12 p.m. PT), Vanessa Carlton (4/1, 9 a.m. PT), Colton Underwood (4/1, 10:45 a.m. PT), Angelina Pivarnick (4/1, 12 p.m. PT), Gail Simmons (4/2, 9 a.m. PT), Brie Bella and Nikki Bella (4/2, 12 p.m. PT), CNCO (4/3, 9 a.m. PT) and Tia Mowry (4/3, 12 p.m. PT).
Watch NBC News Special Report: Coronavirus Pandemic Tuesdays at 10 p.m. ET/7 p.m. PT on NBC, MSNBC and NBC News NOW. For the latest updates on the coronavirus pandemic and for tips on how to prevent the spread of COVID-19, please visit The Center for Disease Control and Prevention at https://www.cdc.gov.
var fbstarttime = new Date(); !function(f,b,e,v,n,t,s) if (f.fbq) return; n = f.fbq = function() n.callMethod? n.callMethod.apply(n,arguments):n.queue.push(arguments) ; if (!f._fbq) f._fbq = n; n.push = n; n.loaded =! 0; n.version = '2.0'; n.queue = []; t = b.createElement(e); t.async =! 0; t.src = v; s = b.getElementsByTagName(e)[0]; s.parentNode.insertBefore(t, s); (window, document, 'script', 'https://connect.facebook.net/en_US/fbevents.js');
fbq('init', '1611373942516879'); fbq('track', 'PageView');
var fbendtime = new Date();



Source
Netflix's Unorthodox True Story | POPSUGAR Entertainment
Image Source: Getty / Christophe Gateau
Have you ever had the fleeting thought of leaving everything behind? That's what Deborah Feldman (above) did, and now, the true story of how she cut ties with the Hasidic community will be the basis for Unorthodox, one of Netflix's latest offerings. In her early 20s, Feldman moved away from her conservative Hasidic home in New York with her son. Years down the road, she eventually made her way to Europe, just like the protagonist in the series. She later published her bestselling memoir Unorthodox: The Scandalous Rejection of My Hasidic Roots, which would inspire the new adaptation starring Shira Haas (The Zookeeper's Wife). Feldman's life, undoubtedly, has been full of twists and turns — here's how her journey unfolded.
What Feldman's Hasidic Upbringing Looked Like
Feldman was born in 1986 in Williamsburg as a part of the Satmar Hasidic community, a sect of ultra-Orthodox Jews from Hungary and Romania known for their segregation from the outside world. Her grandparents raised her, as her mother left when she was young and her father was mentally impaired. When she later reconnected with her mother, a teacher, Feldman learned that she was an atheist and a lesbian. Feldman's upbringing was fairly conservative. Ideas that she grew up with included the sinfulness of the female body and the English language. She believed that the only roles for her in this community were those of a wife and mother.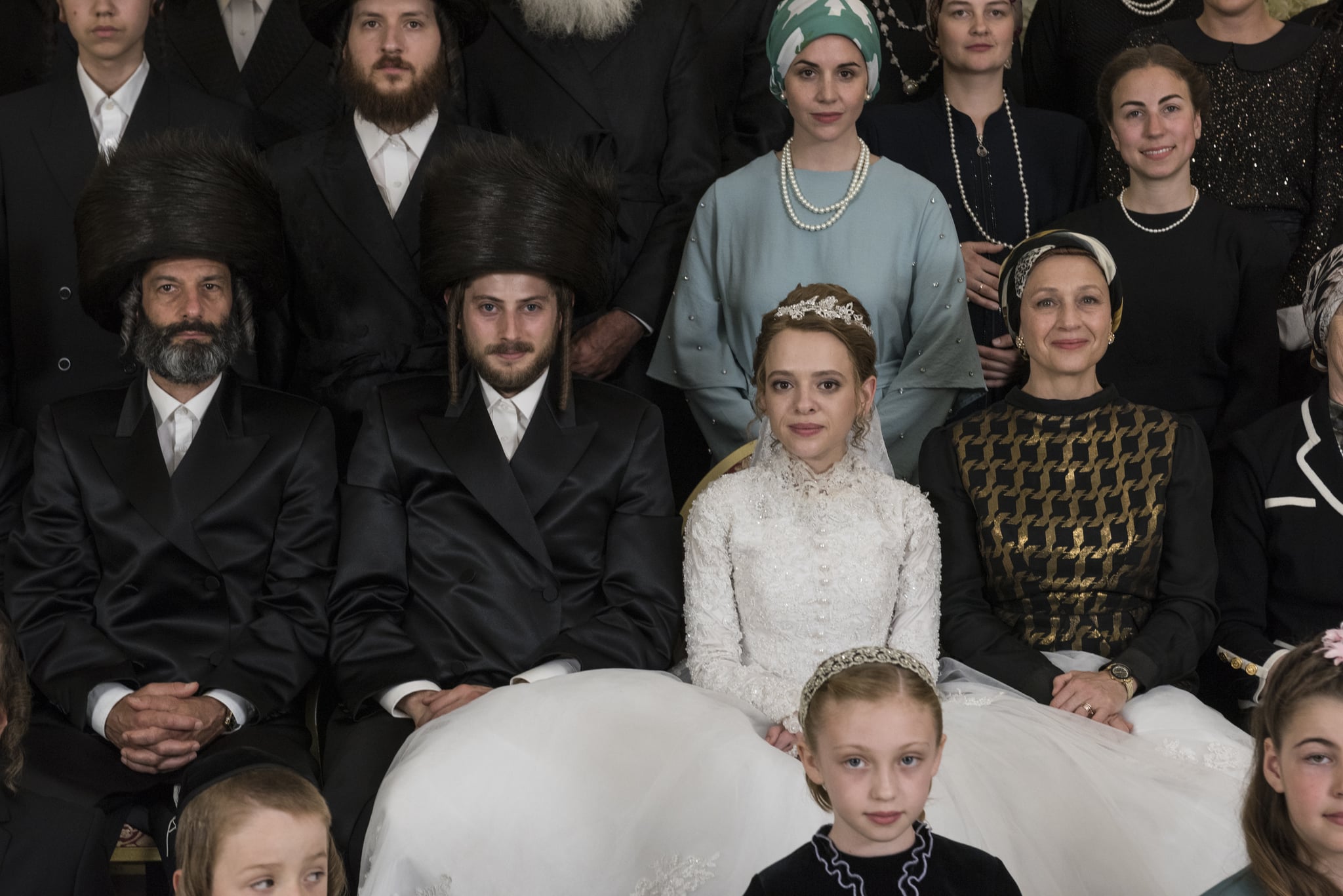 Image Source: Netflix
How Feldman Started Breaking Rules
According to Feldman, she began breaking Hasidic rules with small acts, painting her nails with clear polish and reading books in English at the library. When she was 17, her grandfather arranged her marriage to a Talmud student named Eli. Soon after, she gave birth to her son at 19. She started enrolling in classes at Sarah Lawrence College in Bronxville, NY, where she studied literature and feminism. (Feldman told her husband that she was taking business classes to add to his income as a copywriter at a Hasidic newspaper.) Around this time, her rule breaking also included getting a driver's license and growing out her hair.
How Feldman Became Inspired to Write Her Book
Feldman eventually left her marriage at age 23, only taking her son and garbage bags of clothes. Around this time, she lived with friends and consulted lawyers to maintain custody of her son. Her struggles inspired her to publish her revealing memoir at age 25 in 2012. While a bestseller, her book, suffice to say, has been controversial. In one chapter, Feldman talks about how her husband told her of a father who slit his son's throat after catching him masturbating and how the Hasidic community helped him hide the crime. The Hasidic community has since denied this claim.
According to her website, Feldman and her son live in Berlin, where she's currently working on her first German-language novel. In 2014, she followed up Unorthodox with a second memoir, Exodus, which details her trip across Europe and her investigation of her grandmother's life during the Holocaust.