Roger Federer to Miss French Open After Knee Surgery
Roger Federer announced on Thursday that he had undergone surgery on his right knee and would miss a series of tournaments, including the French Open in May.
Federer, who is ranked No. 3 and has won a men's record 20 Grand Slam singles titles, said the surgery had taken place on Wednesday.
"My right knee has been bothering me for a little while," Federer said in a social-media post. "I hoped it would go away, but after an examination, and discussion with my team, I decided to have arthroscopic surgery in Switzerland."
Federer, 38, said his doctors had confirmed after the procedure that "it was the right thing to have done and are very confident of a full recovery."
Federer made it clear that he expected to be able to play at Wimbledon, which begins June 29. He has won eight singles titles there, a men's record, and held two championship points last year before losing in the final to Novak Djokovic.
"See you on the grass!" Federer said in his post.
But there are naturally uncertainties about his ability to recover quickly and return to the fore at age 38.
This is only the second surgery of his long career. He had the first in February 2016 to repair a torn meniscus in his left knee, and though he returned to competition in April that year, he continued to struggle and eventually cut short his season to further rehabilitate his knee.
He returned after a nearly six-month break to play some of his finest tennis: hitting through his one-handed backhand with new power and conviction. He won the Australian Open and Wimbledon in 2017 and the Australian Open again in 2018, shortly before returning to No. 1.
It has been quite a tennis renaissance, but he will now be forced to take another extended break from competition.
He said he would miss the hardcourt events in Dubai, Indian Wells and Miami as well as the French Open, the next Grand Slam event of the year, which is contested on red clay.
Federer also announced that he would be unable to take part in a rescheduled exhibition on March 24 in Bogotá, Colombia, against Alexander Zverev. That exhibition match was originally scheduled for November but had to be canceled at the last minute after large-scale demonstrations in Bogotá led to the imposition of a curfew.
A Triple Crown Hopeful Emerges and Athlete Workouts Get a J. Lo Cameo
The day in (no) sports includes (some) sports, as horse racing preps for a Triple Crown like no other. Elsewhere, athletes improvised workouts and enlisted workout partners, including a special appearance by J. Lo.
A Prep Race, but for What?
If you didn't look too closely, the Florida Derby on Saturday was like a regular Florida Derby. Tiz the Law, the favorite after winning the Holy Bull Stakes in February, sat just off the pace, took the lead at the top of the stretch and pulled away for a comfortable victory.
But a closer look revealed some irregularities. The grandstand was not full of fans; just a handful of people watched along the rail, a reasonable social distance apart. The news media, and even the horse owners, were barred from Gulfstream Park in Hallandale, Fla.
As with most Florida Derby winners, like Spectacular Bid, Barbaro and Maximum Security last year, Tiz the Law was immediately hailed as a Kentucky Derby favorite.
But the Kentucky Derby won't be run on the first Saturday in May this year; it has been rescheduled for Sept. 5. Tiz the Law's owner, Sackatoga Stable, which owned the 2003 Kentucky Derby winner Funny Cide, has to find a new schedule to get its colt to the race in top form.
The Preakness, originally set for two weeks after the Derby, has been postponed, possibly also to September. The Belmont is still on the calendar for June 6, but given the state of sports, and the world, a postponement seems quite likely. If not, it may suddenly become the first leg of the Triple Crown, fully three months before the other two are run.
Just finding races at all for Tiz the Law may be difficult. The three biggest racing jurisdictions, Southern California, Kentucky and New York, are currently shut down. That leaves Florida, Arkansas and a few other tracks in the United States, for now.
"Maybe we can do a Travers-Derby double," the horse owner Jack Knowlton told The Associated Press, referring to the late August race at Saratoga Race Course in Saratoga Springs, N.Y. "Right now it's a blank slate. Nobody knows what's going to happen, where or when, with all that's going on in the country."
The Triple Crown races are exclusively for 3-year-olds, colts that are still developing. If this year's Triple Crown is held in the fall, the entrants will be a few crucial months older, stronger and faster. Normally, by that time of year, 3-year-olds are racing against older horses, and often beating them.
That raises the intriguing question of whether Tiz the Law or a later-developing 3-year-old may be able to handle the long, grueling Triple Crown races more easily than the young spring 3-year-olds do, and perhaps even threaten Secretariat's record times in the three races. If it happens, an asterisk may be in order.
Creative Ways to Practice
There's no "I" in team … except for when sports are shut down and social distancing guidelines mandate that you can't practice with your teammates.
Athletes who play team sports suddenly find themselves alone and in need of ways to practice on their own. April Ross, a two-time beach volleyball Olympian, had to find a way to volley and spike without a partner. She got creative, setting up a net and propping a piece of wood against a tree to create a target. It started a trend, with dozens of other volleyball players putting together similar setups in their garages, driveways and backyards.
With no teammates to throw to, Yankees pitcher Gerrit Cole instead paired up with his wife, Amy, for a game of catch in their backyard. Texas Rangers outfielder Joey Gallo made a makeshift batting cage in his living room so he could take swings off a tee, joking that his neighbors were going to hate him by the end of his quarantine. The Mets' Dominic Smith, meanwhile, is using dry swings and visualization to keep his mind sharp, paired with the occasional video game workout.
Max Domi, the Montreal Canadiens center, is working on his dribbling skills while balancing on an exercise ball. Pittsburgh Steelers running back James Conner is tossing logs for his workout. DANIELLE ALLENTUCK
A Smile or Two on Social Media
Some of us have reached the stage of confinement where social media is a lifeline to the rest of the world. And forgive us if some of the time we steer away from the frightening coronavirus news and try to find a smile or two.
For star power, it's hard to top the double whammy of the affianced Alex Rodriguez and Jennifer Lopez playing baseball with her daughter, Emme.
In answer to the burning question, yeah, Lopez throws and catches darn well, although the editor of the video kept in one toss that wound up in the hedges.
Some athletes were using their platforms to take a stand. The Super Bowl-winning quarterback Kurt Warner wondered on Monday why some colleges were bringing athletes back for workouts.
And Miami Heat forward Udonis Haslem, a Miami native, in a strongly worded article on The Players' Tribune, scolded well-off college students who were insisting on going to Florida for spring break despite the virus.
"This moment we're in … it's not about you. It's not about your spring break, or the way you wanna live your life. It's like, yeah, trust me, bro — I wanna chill, too."
"But this ain't about me. It ain't about you. This thing is about us."
Dave Edwards, College Basketball Assist Wizard, Dies at 48
This obituary is part of a series about people who died in the coronavirus pandemic. Read about others here.
Dave Edwards grew up in New York City public housing and played in Harlem's Rucker Park, a spawning ground of basketball greats. He graduated from Andrew Jackson High School in Queens and became a record-breaking, crowd-pleasing point guard for Georgetown and Texas A&M., which announced his death on Monday in Queens.
Mr. Edwards was 48. His family said he had been in good health and had no idea how he contracted the virus.
A street-smart kid with something to prove, Mr. Edwards acknowledged in an interview with The New York Times that his demeanor had caused some people to doubt him.
"I'm cocky, I don't back down," he said. "That's the way I was brought up. I come from a strong family. People talked about my height, my S.A.T. scores. They thought I was dealing drugs because I was living in the projects."
David Edwards Jr. was born on Dec. 2, 1971, in Richmond, Va., to Paula and David Edwards and moved to New York before high school. At 5-foot-10, he was a star early on, averaging 41 points a game at Andrew Jackson, a New York City record.
He played freshman year at Georgetown, where he scored only two points in his first game, but notched 14 assists — the third highest in the school's history until then. He played in all 31 games that season, scoring an average of 5.4 points a game.
Differences with the coach (Georgetown's strategy favored taller players and discipline, rather than playground dazzle) prompted him to transfer to Texas A&M, where his 265 assists as a senior in 1993-1994 remains an Aggies record. He averaged 13.3 points, 5.6 rebounds and 8.8 assists per game that season, ranking second in assists nationally.
Mr. Edwards became one of six Division I players in 1994 to have recorded a triple-double (10 or more in three of five categories — points, rebounds, assists, steals and blocked shots — in a single game). He was named to the all-Southwest Conference team for all three seasons of his Texas A&M career, scoring a total of 1,167 points or 13.5 per game. His school career record of 602 assists and 228 steals stood until 2016.
After college, he played for professional teams in Lithuania and Iceland. Most recently, he was the recreation manager for Elmcor Youth and Services Activities, a community service organization. He coached basketball there and at The Mary Louis Academy, both in Queens.
He is survived by his sons, David and Corey, and his longtime companion, Phenrisa Gilliam.
Mr. Edwards was also part of a basketball dynasty. His father, also named Dave, was a three-time captain at Virginia Commonwealth in the 1970s. His son, Corey, played for George Mason University and is a coach at Monteverde Academy in Florida.
Tokyo Olympics Rescheduled for July 23-Aug. 8 in 2021 – NBC Chicago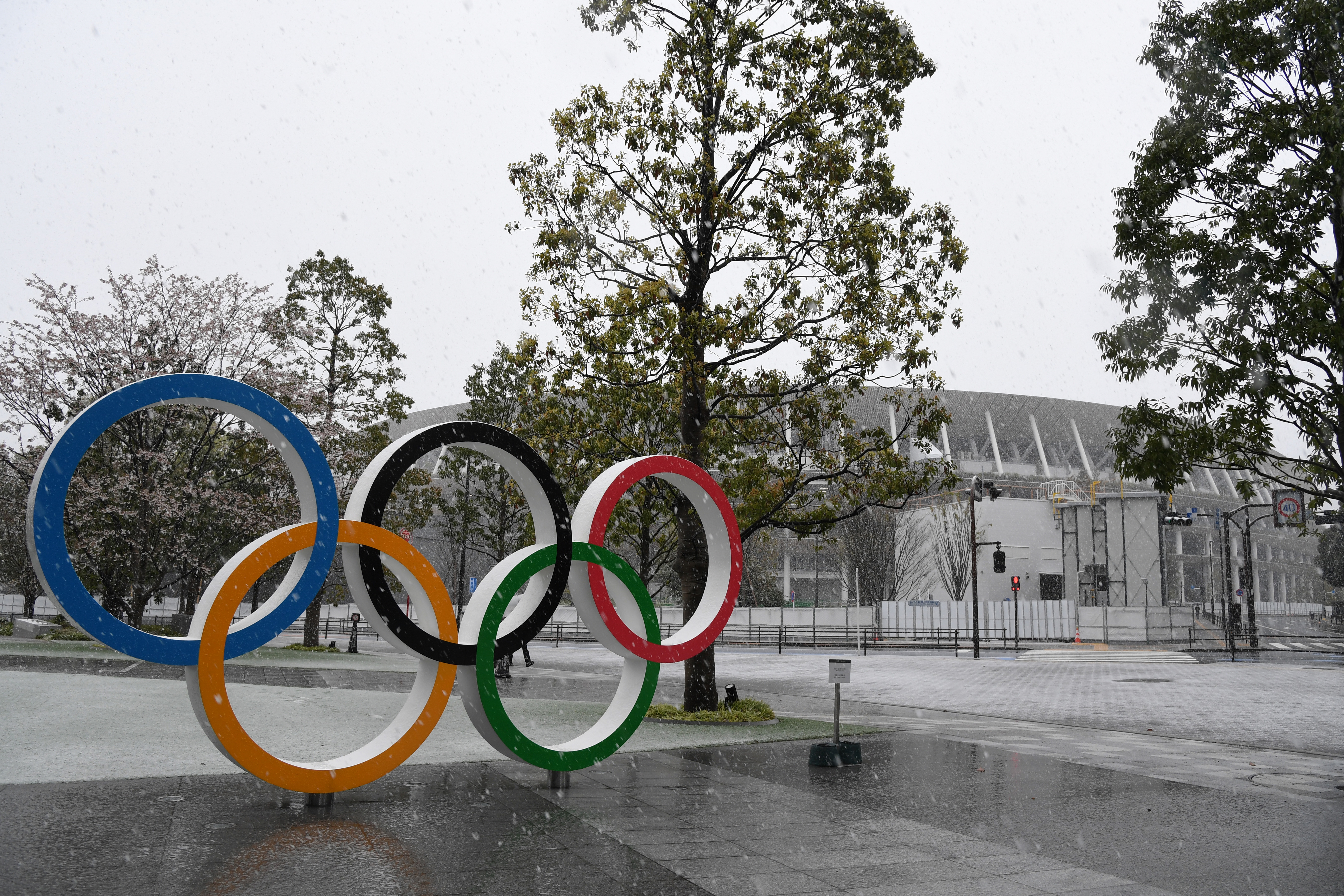 The Tokyo Olympics will open next year in the same time slot scheduled for this year's games.
Tokyo organizers said Monday the opening ceremony will take place on July 23, 2021 — almost exactly one year after the games were due to start this year.
"The schedule for the games is key to preparing for the games," Tokyo organizing committee president Yoshiro Mori said. "This will only accelerate our progress."
Last week, the IOC and Japanese organizers postponed the Olympics until 2021 because of the coronavirus pandemic.
This year's games were scheduled to open on July 24 and close on Aug. 9. But the near exact one-year delay will see the rescheduled closing ceremony on Aug. 8.
Tokyo 2020 Organizing Committee President Yoshiro Mori officially announced the summer games would be postponed until 2021.
There had been talk of switching the Olympics to spring, a move that would coincide with the blooming of Japan's famous cherry blossoms. But it would also clash with European soccer and North American sports leagues.
After holding out for weeks, local organizers and the IOC last week postponed the Tokyo Games under pressure from athletes, national Olympic bodies and sports federations. It's the first postponement in Olympic history, though there were several cancellations during wartime.
The Paralympics were rescheduled to Aug. 24-Sept. 5.
Both Mori and CEO Toshiro Muto have said the cost of rescheduling will be "massive" — local reports estimate billions of dollars — with most of the expenses borne by Japanese taxpayers.
Muto promised transparency in calculating the costs, and testing times deciding how they are divided up.
"Since it (the Olympics) were scheduled for this summer, all the venues had given up hosting any other events during this time, so how do we approach that?" Muto asked. "In addition, there will need to be guarantees when we book the new dates, and there is a possibility this will incur rent payments. So there will be costs incurred and we will need to consider them one by one. I think that will be the tougher process."
Athletes dedicate their lives for a chance to participate in the Olympic Games but the coronavirus has thrown a wrench into everyone's lives, including Olympic athletes. Team USA Karate athlete Sakura Kokumai shares her feelings after the International Olympic Committee made the decision to postpone the 2020 Tokyo Olympics until 2021.
Katsuhiro Miyamoto, an emeritus professor of sports economics at Kansai University, puts the costs as high as $4 billion. That would cover the price of maintaining stadiums, refitting them, paying rentals, penalties and other expenses.
Japan is officially spending $12.6 billion to organize the Olympics. However, an audit bureau of the Japanese government says the costs are twice that much. All of the spending is public money except $5.6 billion from a privately funded operating budget.
The Switzerland-based International Olympic Committee is contributing $1.3 billion, according to organizing committee documents. The IOC's contribution goes into the operating budget.
Bach has repeatedly called the Tokyo Olympics the best prepared in history. However, Deputy Prime Minister Taro Aso also termed them "cursed." Aso competed in shooting in the 1976 Olympics, and was born in 1940.
The Olympics planned for 1940 in Tokyo were canceled because of World War II.
The run-up to the Olympics also saw IOC member Tsunekazu Takeda, who also headed the Japanese Olympic Committee, forced to resign last year amid a bribery scandal.