South Korea pleads with residents to stay in isolation as coronavirus cases spread
SEOUL (Reuters) – Authorities in South Korea pleaded with residents on Friday to stay indoors and avoid large gatherings as new coronavirus cases hovered close to 100 per day.
A woman wearing a protective face mask to prevent contracting the coronavirus disease (COVID-19) walks stairs in Seoul, South Korea March 25, 2020. REUTERS/Kim Hong-ji
South Korea reported 91 new coronavirus cases on Friday, taking the national tally to 9,332, the Korea Centers for Disease Control and Prevention said.
The country has reported similar daily numbers for the past two weeks, down from a high of over 900 in late February.
The government has sought to convince a restless public that several more weeks of social distancing and self-isolation may be needed to allow health authorities to tamp down the smaller but still steady stream of new cases.
"As the weather is getting nicer, I know many of you may have plans to go outside," Yoon Tae-ho, director-general for public health policy at the health ministry, told a briefing.
"But social distancing cannot be successful when it's only an individual, it needs to be the whole community."
The U.S. military command this week also moved to try to restrict the movements of roughly 28,500 American troops stationed in South Korea.
An American soldier stationed at the sprawling Camp Humphreys south of Seoul tested positive late on Thursday, U.S. Forces Korea said in a statement.
She is the second soldier and 11th person related to United States Forces Korea (USFK) to test positive.
Officials are seeking to trace her previous movements, as she was at work and other locations on the base as late as the day she tested positive.
Earlier this week an American contractor also working at Camp Humphreys – which hosts the headquarters of the U.S. military command in South Korea – tested positive.
USFK declared a public health emergency, which gives commanders more authority to ensure "total force compliance" with regulations aimed at stopping the spread of the disease by restricting the movements of not only troops, but also their families, as well as other civilians who work on the bases.
"We cannot allow the actions of a few, who knowingly and selfishly take matters into their own hands, place the rest of population at an unacceptable level of risk," USFK said in a letter this week.
"Leaders have a responsibility to do everything in their power to protect all members of the team and make certain no one can infiltrate our protective 'bubbles'."
Reporting by Hyonhee Shin and Josh Smith; Editing by Tom Hogue and Michael Perry
Our Standards:
The Thomson Reuters Trust Principles.
Emmy-winning musician & co-founder of Fountains of Wayne, Adam Schlesinger, dies of coronavirus at 52 — RT World News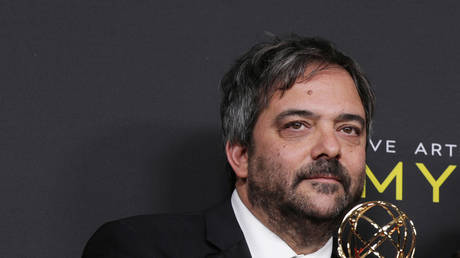 Award-winning songwriter and musician Adam Schlesinger has passed away after contracting Covid-19 and spending several days on a ventilator, according to his attorney. He was 52 years old.
The musician died in a New York Hospital on Wednesday, his lawyer Josh Grier told the Associated Press. Winning three Emmy awards and one Grammy, Schlesinger was perhaps best known for his work with the New York City-based band Fountains of Wayne and its Grammy-nominated single 'Stacy's Mom'.
He also wrote music for a number of films and television shows, including the 1997 comedy 'That Thing You Do' – directed by Tom Hanks, who has also contracted the coronavirus – and more recently was a songwriter for the musical comedy series 'Crazy Ex-Girlfriend'.
The artist's passing was mourned by thousands of fans, as well as his colleagues in the entertainment industry, hailing Schlesinger as "an otherworldly talent and inspiration."
Schlesinger is survived by his two daughters.
Think your friends would be interested? Share this story!
Treasury Won't Force Seniors to File Tax Return for Coronavirus Stimulus Check – NBC Chicago
The Trump administration backtracked Wednesday evening on new rules and said Social Security recipients won't have to file a tax return to receive a stimulus payment.
The move is a response to pressure from elderly Americans and senators to rescind guidance from Monday that said seniors needed to file a return to get the checks of up to $1,200, even if they weren't ordinarily required to file taxes, NBC News reports.
"We want to ensure that our senior citizens, individuals with disabilities, and low-income Americans receive Economic Impact Payments quickly and without undue burden," Treasury Secretary Steven Mnuchin. "Social Security recipients who are not typically required to file a tax return need to take no action, and will receive their payment directly to their bank account."
Treasury said the IRS will use existing SSA-1099 and RRB-1099 forms to make the payments to seniors. They'll get a direct deposit if there is a bank account on file; otherwise they'll receive a check in the mail.
Read the full story at NBCNews.com
AP U.S. Government and Politics: 5.8 Electing a President


In this AP U.S. Government and Politics class students will cover how the Electoral College facilitates and/or impedes democracy
Access helpful resources and lesson handouts here:
AP exams in 2020 will be at-home, online tests. Check for more information.
Find Us:
Follow us on Twitter:

source