The Moment Pete Davidson Knew His Ariana Grande Engagement Was 'Over'
Big di…alogue energy!
Pete Davidson is known for his crass and cheeky jokes on Saturday Night Live but, in real life, he isn't playing around when it comes to his love life and wanting to become a dad within the next "five years."
The 26-year-old comedian sat down with Charlamagne Tha God, where he candidly discussed his many romances with celebrities like Ariana Grande, Kate Beckinsale, Margaret Qualley and Kaia Gerber.
Of course, it's safe to say Davidson's most famous relationship was with the Thank U, Next songstress. To everyone's surprise, the two got engaged back in June 2018 when the SNL star was still up-and-coming.
However, after four whirlwind months, the pair called it quits.
For the comedian, he felt things were "over" after Grande's ex-boyfriend Mac Miller passed away in September 2018 due to an accidental overdose.
"I think I said, like, 'I'll be here until you don't want me to be here,'" Davidson said about being there for Ariana, as she mourned the rapper. "I pretty much knew it was over around after that. That was really horrible and I can't imagine what that s–t is like. That s–t is just terrible."
FOR MORE TRENDING NEWS COVERAGE TEXT "ENEWS" TO 44144 TO DOWNLOAD THE E! NEWS APP
"All I do know is that she really loved the s–t out of him and she wasn't putting on a show or anything," he continued. "That was f–ked up and prayers to his family and all of his friends, still."
Davidson explained that while he and Ariana broke things off a while back, he still wants to be "cool" with her and everyone he dates.
And despite the fact that he makes jokes out of his past relationships, including the one he had with the 26-year-old pop star, he said some topics are "off-limits."
Shareif Ziyadat, Jesse Grant, Lloyd Bishop/Getty Images
"I think genuinely being hurtful is off-limits or anything like being s–tty or anything," the comedian expressed. "I wanna be cool with everybody but, you know, stand-up's part of my life. That was a highly publicized thing. I feel like [Ariana] got her fair run and her fair stab at it, and like I said, I don't have social media and I don't have an outlet really to express my feelings so stand-up's just how I do it."
He added, "[Ariana]'s the queen of shade… I hope people feel the same way about my jokes."
MEGA
Aside from dating one of the biggest pop stars ever, Pete has also been linked to some of Hollywood's greatest, including Kate Beckinsale and Margaret Qualley.
He was most recently tied to 18-year-old supermodel Kaia Gerber, but the two decided to go their separate ways earlier this year, so he could focus on his mental health.
If anything, the 26-year-old star made it clear that he's staying single for a while.
"What can I say? I love love, but I'm pretty done with that," he told Charlamagne. "I'm going to try and stay away from that. It's just a lot…"
"I think you grow a lot as a person. I've learned a lot from the awesome chicks that I've been with, and they're all cool," he continued. "So I think you just grow, you become a better version of yourself, because you learn a little something from everybody."
Even though he doesn't have a leading lady by his side, Pete revealed that he hopes to become a dad in the near future. Well, five years to be exact.
"Anyone can have my child…," he said. "I got to be in love and stuff, but I'm at the point where I'm like maybe I should adopt or something. Me and my mom… I think everybody's afraid of the Davidson seed."
To get an even closer look into the SNL star's life, you can watch the full interview, here!
var fbstarttime = new Date(); !function(f,b,e,v,n,t,s) if (f.fbq) return; n = f.fbq = function() n.callMethod? n.callMethod.apply(n,arguments):n.queue.push(arguments) ; if (!f._fbq) f._fbq = n; n.push = n; n.loaded =! 0; n.version = '2.0'; n.queue = []; t = b.createElement(e); t.async =! 0; t.src = v; s = b.getElementsByTagName(e)[0]; s.parentNode.insertBefore(t, s); (window, document, 'script', 'https://connect.facebook.net/en_US/fbevents.js');
fbq('init', '1611373942516879'); fbq('track', 'PageView');
var fbendtime = new Date();



Source
Keeping Up With All Celeb Livestreams: What to Watch March 30-April 5
There's a star-studded lineup of virtual events happening this week that you don't want to miss, including interviews with Jennifer Aniston and Kim Kardashian!
Check out our complete list of events going on from today, Monday, March 30, to Sunday, April 5:
Kelly Ripa and Ryan Seacrest will welcome a number of guests for virtual interviews this week! Live with Kelly and Ryan, which airs at 9 a.m. ET and PT, will welcome Issa Rae, Leslie Odom Jr., Ryan Trygstad on Monday. Then on Tuesday, March 31, Josh Radnor and Colton Underwood will join Ryan and Kelly. On April 1, Uzo Aduba, Bethenny Frankel and Max are guests on the show, while Kim Raver joins Kelly and Ryan on Thursday, April 2.
The View will welcome Jonathan Karl on Monday, March 30, and Kim Kardashian on Tuesday, March 31. The show airs at 11 a.m. ET/10 a.m. PT.
The Talk, which airs at 2 p.m. EST/1 p.m. PT, will welcome Wayne Brady (3/30), Sean Hayes (3/31), Terry Crews (4/1), Jaime Camil and Pauley Perrette (4/2) and Dr. Oz and Sebastian Maniscalco (4/3).
Miley Cyrus' Bright Minded Instagram Live (11:30 a.m. PT): Guests include Alicia Keys, Millie Bobby Brown, Zion Clark and Selma Blair.
Conan (Every Weeknight at 11 p.m.): Adam Sandler (3/30), Sophie Turner (3/31), Jesse Eisenberg (4/1) and Sean Hayes (4/2).
Jimmy Kimmel Live (Every Weeknight at midnight): Monday, 3/30: Tracy Morgan, Lizzo. Tuesday, 3/31: Samuel L. Jackson, Jeff Tweedy & family. Wednesday 4/1: Eric Stonestreet,Jesse Tyler Ferguson, Jessie Reyez. Thursday, 4/2: Jennifer Aniston, Grouplove.
The Tonight Show Starring Jimmy Fallon (Every Weeknight, 11:35 p.m.): Monday, 3/30: Kim Kardashian West, Jon Bon Jovi, OneRepublic, Tuesday, 3/31: Demi Lovato, Jonathan Van Ness, Wednesday, 4/1: Adam Sandler, Russell Wilson, Ciara, Marcus Mumford. Thursday, 4/2: Hot Country Knights. Friday, 4/3: Miley Cyrus, Lewis Capaldi.
Late Night With Seth Meyers (Every Weeknight at 12:30 a.m.): Seth will be joined by Sen. Bernie Sanders on Monday, March 30.
A Little Late with Lilly Singh (Every Weeknight at 1:30 a.m.): Monday, 3/30: Tyra Banks, Tuesday, 3/31: Natalya Neidhart, Paige & Alexa Bliss, Wednesday, 4/1: Terry Crews, Thursday, 4/2: Aisha Tyler, Rob Huebel.
Pop of the Morning: Ramona Singer will join the E!'s Pop of the Morning hosts on Instagram Live Monday, 3/30 at 11 a.m. PT/2 p.m. ET. Then on Tuesday, 3/31 at 1 p.m. PT/4 p.m. ET Sandra Lee aka Dr. Pimple Popper will be on! On Wednesday, 4/1 at 1 p.m. PT/4 p.m. ET, Justine Marjan will join Pop of The Morning as a guest. And on Thursday, 4/2 at 1 p.m. PT/4 p.m. ET, Joseph Carrillo will join the Pop of the Morning squad.
Nightly Pop: On Monday, 3/30 at 1 p.m. PT/4 p.m. ET, Jessica Garcia will join the Nightly Pop team. And on Thursday, 4/2, at 10:30 a.m. PT and 1:30 a.m. ET, reality star Ed Brown will be a guest.
Daily Pop will also have a number of celeb interviews this week! On Monday, 3/30, 9 a.m. PT/12 p.m. ET. Chef Cat Cora joins the Daily Pop squad. At 12 p.m. PT/3 p.m. ET, Daily Pop welcomes Wayne Brady. Daily Pop also welcomes Jonathan Van Ness (3/31, 9 a.m. PT/12 p.m. ET), Candace Cameron Bure (3/31,10:30am PT), Ty Burrell (3/31, 12 p.m. PT), Vanessa Carlton (4/1, 9 a.m. PT), Colton Underwood (4/1, 10:45 a.m. PT), Angelina Pivarnick (4/1, 12 p.m. PT), Gail Simmons (4/2, 9 a.m. PT), Brie Bella and Nikki Bella (4/2, 12 p.m. PT), CNCO (4/3, 9 a.m. PT) and Tia Mowry (4/3, 12 p.m. PT).
Watch NBC News Special Report: Coronavirus Pandemic Tuesdays at 10 p.m. ET/7 p.m. PT on NBC, MSNBC and NBC News NOW. For the latest updates on the coronavirus pandemic and for tips on how to prevent the spread of COVID-19, please visit The Center for Disease Control and Prevention at https://www.cdc.gov.
var fbstarttime = new Date(); !function(f,b,e,v,n,t,s) if (f.fbq) return; n = f.fbq = function() n.callMethod? n.callMethod.apply(n,arguments):n.queue.push(arguments) ; if (!f._fbq) f._fbq = n; n.push = n; n.loaded =! 0; n.version = '2.0'; n.queue = []; t = b.createElement(e); t.async =! 0; t.src = v; s = b.getElementsByTagName(e)[0]; s.parentNode.insertBefore(t, s); (window, document, 'script', 'https://connect.facebook.net/en_US/fbevents.js');
fbq('init', '1611373942516879'); fbq('track', 'PageView');
var fbendtime = new Date();



Source
Netflix's Unorthodox True Story | POPSUGAR Entertainment
Image Source: Getty / Christophe Gateau
Have you ever had the fleeting thought of leaving everything behind? That's what Deborah Feldman (above) did, and now, the true story of how she cut ties with the Hasidic community will be the basis for Unorthodox, one of Netflix's latest offerings. In her early 20s, Feldman moved away from her conservative Hasidic home in New York with her son. Years down the road, she eventually made her way to Europe, just like the protagonist in the series. She later published her bestselling memoir Unorthodox: The Scandalous Rejection of My Hasidic Roots, which would inspire the new adaptation starring Shira Haas (The Zookeeper's Wife). Feldman's life, undoubtedly, has been full of twists and turns — here's how her journey unfolded.
What Feldman's Hasidic Upbringing Looked Like
Feldman was born in 1986 in Williamsburg as a part of the Satmar Hasidic community, a sect of ultra-Orthodox Jews from Hungary and Romania known for their segregation from the outside world. Her grandparents raised her, as her mother left when she was young and her father was mentally impaired. When she later reconnected with her mother, a teacher, Feldman learned that she was an atheist and a lesbian. Feldman's upbringing was fairly conservative. Ideas that she grew up with included the sinfulness of the female body and the English language. She believed that the only roles for her in this community were those of a wife and mother.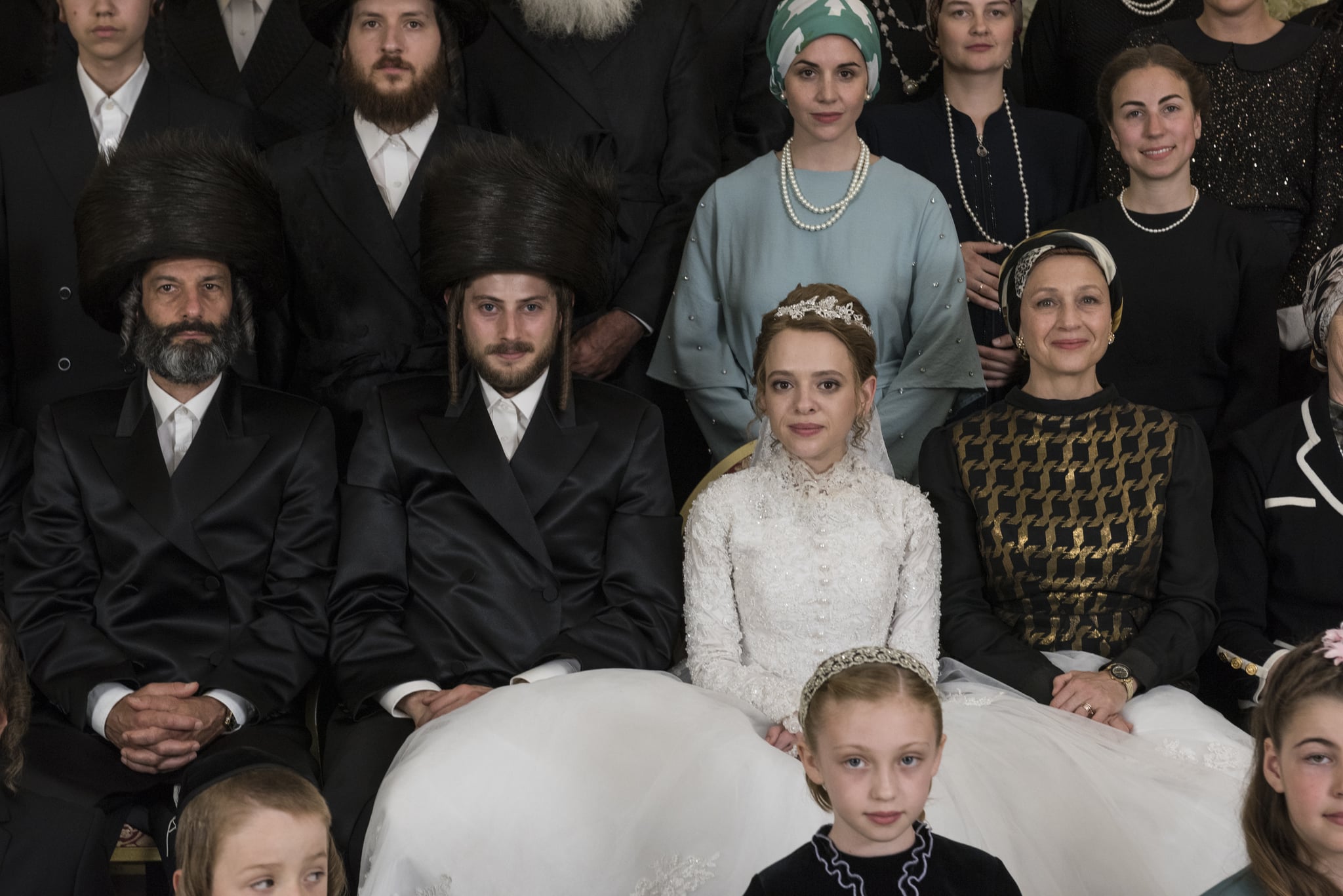 Image Source: Netflix
How Feldman Started Breaking Rules
According to Feldman, she began breaking Hasidic rules with small acts, painting her nails with clear polish and reading books in English at the library. When she was 17, her grandfather arranged her marriage to a Talmud student named Eli. Soon after, she gave birth to her son at 19. She started enrolling in classes at Sarah Lawrence College in Bronxville, NY, where she studied literature and feminism. (Feldman told her husband that she was taking business classes to add to his income as a copywriter at a Hasidic newspaper.) Around this time, her rule breaking also included getting a driver's license and growing out her hair.
How Feldman Became Inspired to Write Her Book
Feldman eventually left her marriage at age 23, only taking her son and garbage bags of clothes. Around this time, she lived with friends and consulted lawyers to maintain custody of her son. Her struggles inspired her to publish her revealing memoir at age 25 in 2012. While a bestseller, her book, suffice to say, has been controversial. In one chapter, Feldman talks about how her husband told her of a father who slit his son's throat after catching him masturbating and how the Hasidic community helped him hide the crime. The Hasidic community has since denied this claim.
According to her website, Feldman and her son live in Berlin, where she's currently working on her first German-language novel. In 2014, she followed up Unorthodox with a second memoir, Exodus, which details her trip across Europe and her investigation of her grandmother's life during the Holocaust.
A Pandemic Isn't Stopping New York City's Vacation Set
Over the weekend, Donald Trump suggested that the tristate area of New York, New Jersey, and Connecticut could be placed under quarantine before taking a milder route and asking the Centers for Disease Control and Prevention to issue an advisory for the area to "refrain from non-essential domestic travel" for the next two weeks. For New York City's wealthy part-time residents with the means to flee, that could leave a question open: Even if the federal government hasn't formally imposed an unenforceable travel ban that prevents you from leaving the city, should you?
To read the comments on a Saturday Instagram post from influencer Naomi Davis, the wisdom of the crowd is a resounding no. Davis, who posts under the nickname Taza, said she, her husband, and their five kids had packed up their RV on Friday to head west, writing, "Hopefully a little change of apartment scenery will be just what we need."
"I'm so scared that this decision will influence your followers to do the same," one commenter wrote.
The impulse to broadcast one's distance from the fray has crossed multiple strata of the moneyed, from those rich enough to leave their family-sized city homes behind to those who can wait out the pandemic in ocean isolation. While one enduring image of the pandemic will be the health care workers doing their best with a dangerous shortage of supplies, another may be David Geffen recording his contentment aboard his yacht on Saturday. "Sunset last night," he wrote on Instagram. "Isolated in the Grenadines avoiding the virus. I'm hoping everybody is staying safe." (Maybe the tides are changing ever so slightly: Geffen went private after the inevitable blowback, and he now appears to have deactivated or deleted his account.)
By this stage of the pandemic, it's a familiar discussion. Reports have surfaced from the Catskills, Hamptons, and Nantucket about the brewing backlash to the New York vacation set departing the American crisis's epicenter. Meanwhile, back at home, a surreal scene continues to unfold as tents are built in Central Park to house COVID-19 patients. And as the New York Post reported over the weekend, two of Mount Sinai Hospital's top executives, Kenneth Davis and Arthur Klein, are managing the health care network from Florida vacation homes. "As a front line healthcare worker who has rearranged my family for their safety," the doctor Dara Kass tweeted on Sunday morning, "I think @MountSinaiNYC should have to answer why their leadership has retreated to #Miami rather than stand in solidarity with their employees in #NYC during #COVID19." (Davis, who told the Post that he had been in Florida "before this started," said his doctor told him not to return to New York because of his age.)
If New York City serves as a preview of what could happen across the country as the virus spreads, it might be in this regard too. On Friday, Rhode Island Governor Gina Raimondo announced that all cars with New York plates would be stopped on their way into the state, before expanding the order to all states. USA Today reported on Saturday that four affluent skiing-friendly counties lead the nation in per capita rates of confirmed coronavirus cases, outside of New York and Louisiana. Geffen may have deleted his account, but not before spreading awareness.
More Great Stories From Vanity Fair
— Meghan Markle's U.K. Farewell Tour Was a Master Class in Revenge-Dressing
— Is Hand Sanitizer the Last Luxury Good Left?
— The Queen Has a Plan for Working During Quarantine
— Orlando Bloom, Katy Perry, Heidi Klum, and Other Celebs Join You in Self-Quarantine
— Inside the Survivalist Bunker Where Some Wealthy People Hope to Ride Out Coronavirus
— Broadway's Unprecedented Closure Puts New Shows, and Even the Tonys, in Jeopardy
— From the Archive: How Thieves Raided the Isabella Stewart Gardner Museum and Succeeded in Pulling Off the Biggest Art Heist in U.S. History
Looking for more? Sign up for our daily newsletter and never miss a story.