Want to get more from your data? Stop focusing on efficiency
Ever since Henry Ford came up with the idea of using moving assembly lines to build automobiles faster at lower cost and at higher quality, efficiency has been the driving force in industry.
Unfortunately, it's the wrong approach for modern businesses. We're no longer in an industrial economy. Today, information powers our world. Efficiency drives profit in the short term, but making it your primary focus doesn't drive innovation; it opens the door for competitors to provide something better.
Despite this, we've applied the efficiency mantra to almost every aspect of business. The primary use of data in many organizations is to cut costs and increase profitabilty for existing products. Dashboards and reports are really tools to answer questions like: Where is our process breaking? Which parts of our business are the least efficient? Where can we reduce cost? Data is the language of that conversation.
But the focus on efficiency is limiting. Businesses have more opportunities in environments of plenty, fewer in environments of scarcity. Most businesses today exist in a world of plenty: We have new ways to reach customers, like smartphones, chatbots and global logistics networks, and more ways to innovate, like machine learning, 5G, and an abundance of data and cheap processing power.
Using fewer resources, which is the focus of an efficiency program, makes us lean and mean, but it doesn't provide fertile ground for growth. It can even be counterproductive. Call times can only be so low while still maintaining acceptable customer service. After a certain point, productivity gains are offset by quality issues.
Does this mean we should throw efficiency off a cliff? Obviously not. But using data smartly can provide the best of both worlds. Efficiency is appropriate for non-differentiating, mature cost centers, but it shouldn't be the prevailing corporate philosophy. To succeed in today's fast-moving tech landscape, the focus has to be innovation.
That's all well and good, but how do we apply data to drive innovation instead of efficiency? I have three recommendations.
Think outside your business
Data isn't just for internal stakeholders. Increasingly, companies realize that providing data externally is a vital part of their business. Whether it's providing billing detail to business customers, transaction detail to consumers, or performance data to vendors, data is increasingly a differentiator. Making it available externally is a great first step away from an efficiency focus.
Get data to business users, not just technical users
Historically, access to data has been limited to technical people who speak the language of data, but these are rarely the same people who own the business outcome. Business users need wider access to data, which will allow them to think of new uses that only they can identify because they understand the customers and the business.
Opening up access to data is becoming easier. Modern analytics tools allow non-technical users to experiment with data in creative ways. To enable this, make sure the people who can innovate with data have access to it — not just the analysts.
Optimize for maturity, innovate for growth
It's important to distinguish among different parts of the business. Efficiency should be applied in the mature areas. Use data to identify segments that have slow or declining growth and apply efficiency there. Everything else should be managed through the lens of innovation.
That applies especially to areas of differentiation — and these can vary even within the same industry. For example, a bank may view its customer call center as simply a cost center, so outsourcing those services may be appropriate. Another bank may see customer service as its competitive advantage. It should use data to identify its best customers, predict their future value, and route them to the best agents.
We're in a remarkably different economy from the world of Henry Ford. His laser focus on speed and cost were appropriate at the time, and still are for some traditional industries. But for most of us, innovating quickly is a prerequisite to survival. That means loosening the chokehold that efficiency has on our thinking and making data-driven innovation the driving force in business.
Doug Bordonaro is Field CTO at ThoughtSpot.
Leveraging Technology To Curb Spread Of Deadly Virus


Don't forget to subscribe:
Watch more interesting videos:
Follow Channels Television On:
Facebook:
Twitter:
Instagram:
Get more news on our website:
#ChannelsTv

source
Coronavirus: Tech firm Bloom Energy fixes broken US ventilators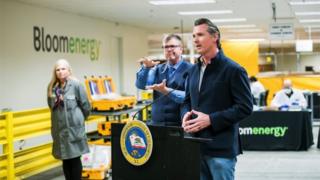 A Californian company that usually makes green-energy fuel cells is due to deliver 170 repaired ventilators to Los Angeles later on Monday after transforming its manufacturing process.
An engineer at Bloom Energy downloaded the service manual and taught himself how to dismantle and rebuild them in a day, the Los Angeles Times reported.
They had been in storage since the H5N1 bird flu outbreak of the mid-2000s.
Bloom says it is now working to find other stockpiles of disused machines.
On Saturday, as California Governor Gavin Newsom visited the manufacturing plant, he said: "We got a car and a truck and had [them] brought here to this facility at 08:00 this morning.
"And Monday, they'll have those ventilators back into Los Angeles all fixed. That's the spirit of California."
Mr Newsom said the the original manufacturers had initially told him it would take a month to fix 200 ventilators, which help patients breathe if they are having difficulties due to Covid-19 or other diseases.
He said he told Bloom: "We challenge you to do more and do better."
What do I need to know about the coronavirus?
And on 22 March, the company's chief executive, KR Sridhar, sent the governor a photo of 24 finished ventilators ready to be certified for use.
Mr Sridhar told CNBC: "We think we can do hundreds of ventilators – close to 1,000 ventilators – a week of refurbishment.
"This is the fastest way – we can take existing ventilators that are out there, get them working, get them back to the hospitals."
What are ventilators and why are they important?
Mercedes F1 to make breathing aid
The strategy contrasts with that of the UK, which is seeking to make thousands of new machines in partnership with manufacturing companies.
The UK has about 8,000 ventilators available and has placed orders for the same number again from existing manufacturers
Dyson has also received an order for 10,000 units of a new design – if it passes regulatory hurdles.
But manufacturers have said they will not be able to meet demand if coronavirus infections peak in the coming weeks.
Facebook Aims $100 Million at Media Hit by the Coronavirus
Facebook announced on Monday that it would dole out $25 million in grants to local news outlets and spend $75 million in a marketing drive aimed at news organizations internationally in response to the coronavirus-prompted economic downturn, which has caused advertising to plummet and has threatened media industry revenues.
Despite huge interest in news that has led to traffic surges and a rise in digital subscription sign-ups, the media industry has seen cutbacks as advertising has dropped sharply. Some alt-weeklies have laid off as many as three-quarters of their employees. BuzzFeed and American Media Inc. have instituted pay cuts. In Louisiana, The Advocate and The Times-Picayune have furloughed some staff and put the rest on four-day workweeks.
The money announced Monday will come on top of $300 million that Facebook, one of the world's largest tech platforms and a critical digital news gatekeeper, pledged last year to invest in local news by the end of 2021.
Campbell Brown, Facebook's vice president for global news partnerships, said in a post, "If people needed more proof that local journalism is a vital public service, they're getting it now."
In an interview, Ms. Brown said Facebook felt obliged to help local news organizations weather the downturn. The outbreak has punished many of them financially while they perform risky journalism on an essential topic. Many of them have posted their coverage outside their paywalls.
At the same time, increased traffic and subscriptions have not made up for advertising shortfalls.
"We have begun to make progress," she said, "subscriptions have begun to increase, but there's still a gap there, and if we can fill that gap, then we have a responsibility to do it."
Part of a $1 million Facebook grant announced two weeks ago helped The Post and Courier newspaper of South Carolina cover remote work costs for its journalists and expand its coverage across the state, Facebook said.
News outlets have long seen Facebook as an adversary. The social media giant and Google, the search company, dominate digital ad revenue, squeezing the bottom lines of traditional media.
Moreover, Facebook is built on users' sharing enticing content, including news articles. That gave the company an incredible amount of leverage over publishers, as a few tweaks to its algorithm could, like turning a spigot, direct traffic away from or to news articles. In recent years, the central News Feed pivoted away from an emphasis on hard news. ("News Feed isn't about news. It's still mostly about friends and family," Ms. Brown said.)